Passenger, worker and community safety is paramount to the operation of the country's railways. Such is the close relationship between the two that Mark Carne often said that safety goes "hand in hand" with performance.
So, last month, it was fitting that the safety exhibition Safestart was held on Valentine's Day at the NAEC in Warwickshire. Organised since 2014, the annual show provides a platform for the industry to come together and talk about safety, bringing it to the forefront of workers' minds for the start of a new year.
And it was clear how serious the sector takes safety with exhibitors representing all corners of the industry. This included Balfour Beatty, the National College for High Speed Rail, Emerson Crane Hire, the East West Rail Alliance, welfare and plant hire specialists Garic as well as builders merchant Scott Parnell – which spread some love by handing out single roses.
With dozens of exhibitors, a conference programme and two seminar domes, there was plenty to see and do. Here were some of the key highlights and lessons learned: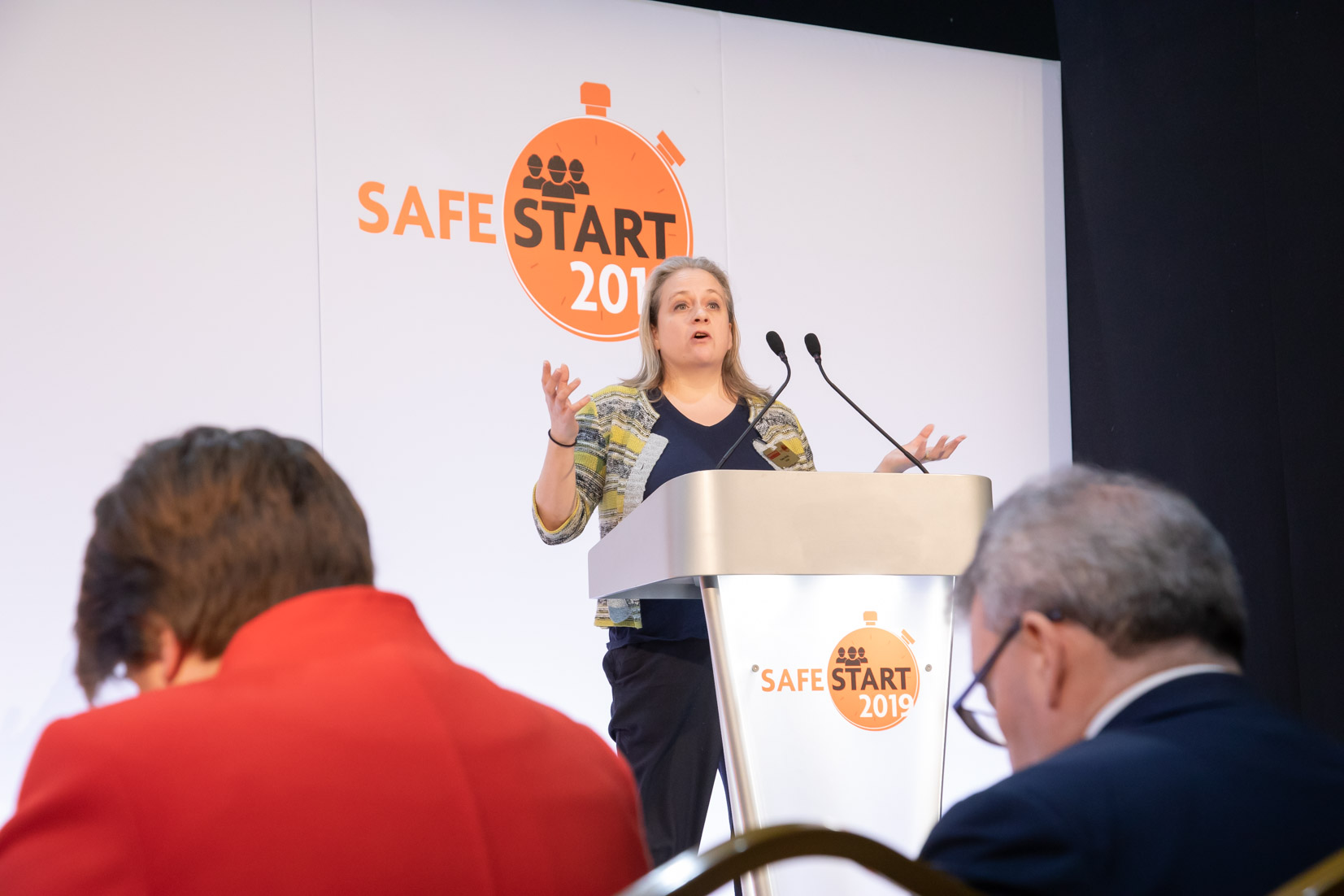 Could close call reporting have prevented the Croydon tram crash?
Katie Healy, stakeholder manager of confidential reporting system CIRAS, kickstarted the conference programme with a presentation on encouraging close call reports.
She shared a powerful video of the Croydon tram derailment narrated by RAIB investigator Richard Harrington. Richard said it was dark and raining when the tram emerged out of Sandilands Tunnels at 78km/h. The driver applied some braking and reduced the tram's speed to 73km/h but entered a sharp bend with a 20km/h speed limit, which resulted in the tram overturning.
However, as Richard revealed, this was not the first time a driver had to resort to emergency braking measures to try to navigate the curb.
He said: "We found out during our investigation that several of the other drivers… had themselves become inattentive or distracted and had recovered by applying the tram's emergency or hazard brake to reduce their speed to negotiate the curb successfully.
"But they didn't feel they were able to report this to their management for fear of actually, perhaps, being ended up on a development plan or being disciplined for losing attention or being distracted in the first place…"
Although in his short narrative Richard did not go as far as to say that a close call report could have prevented the crash, the video raised the question and stressed how important it is to flag unsafe acts or conditions to learn lessons and help reduce the risk of future accidents.
CIRAS research has found that blame, fear, lack of time, apathy, a negative view of reporting and a lack of knowledge of what to report are the key reasons why people don't report close calls.
Different worksites, different attitudes to health and safety concerns
Katie also touched on further CIRAS research that indicated a stark difference in how seriously health and safety concerns are taken between those that work in management or an office and those on the frontline. In the former's case, 87.5 per cent of those who responded said they felt health and safety concerns were taken seriously. This dropped to 40 per cent for those working on the frontline.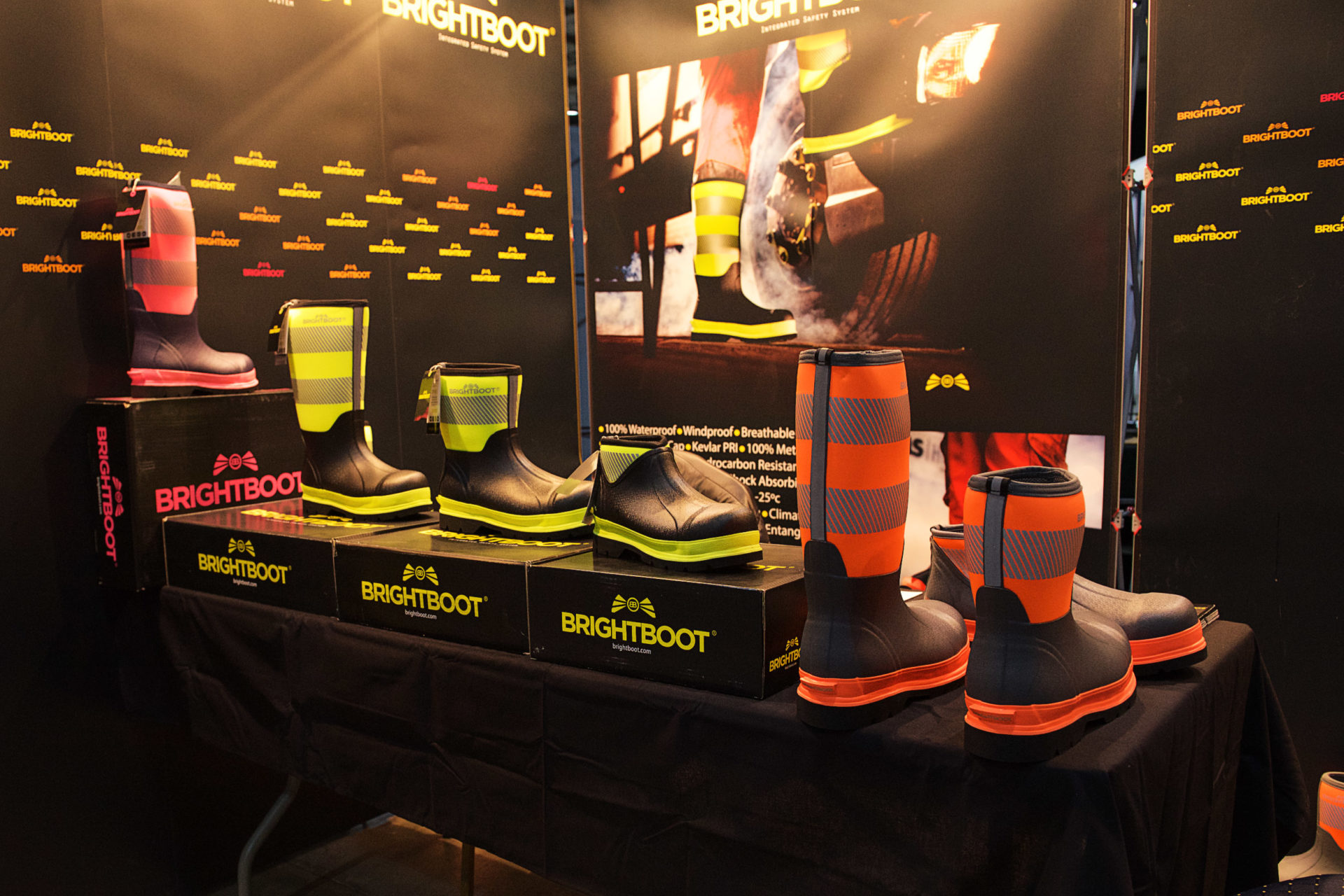 Hi-vis wellingtons could be coming to a worksite near you
Situated in Safestart's Innovation Zone was Brightboot, a provider of safety boots that use hi-visibility materials to add an extra level of protection. Managing director Marcus Aldred, who launched the company in 2018, said that when trousers are tucked into boots, a significant amount of the lower body can be left unmarked by hi-vis, a problem he hopes to overcome with this new range of products.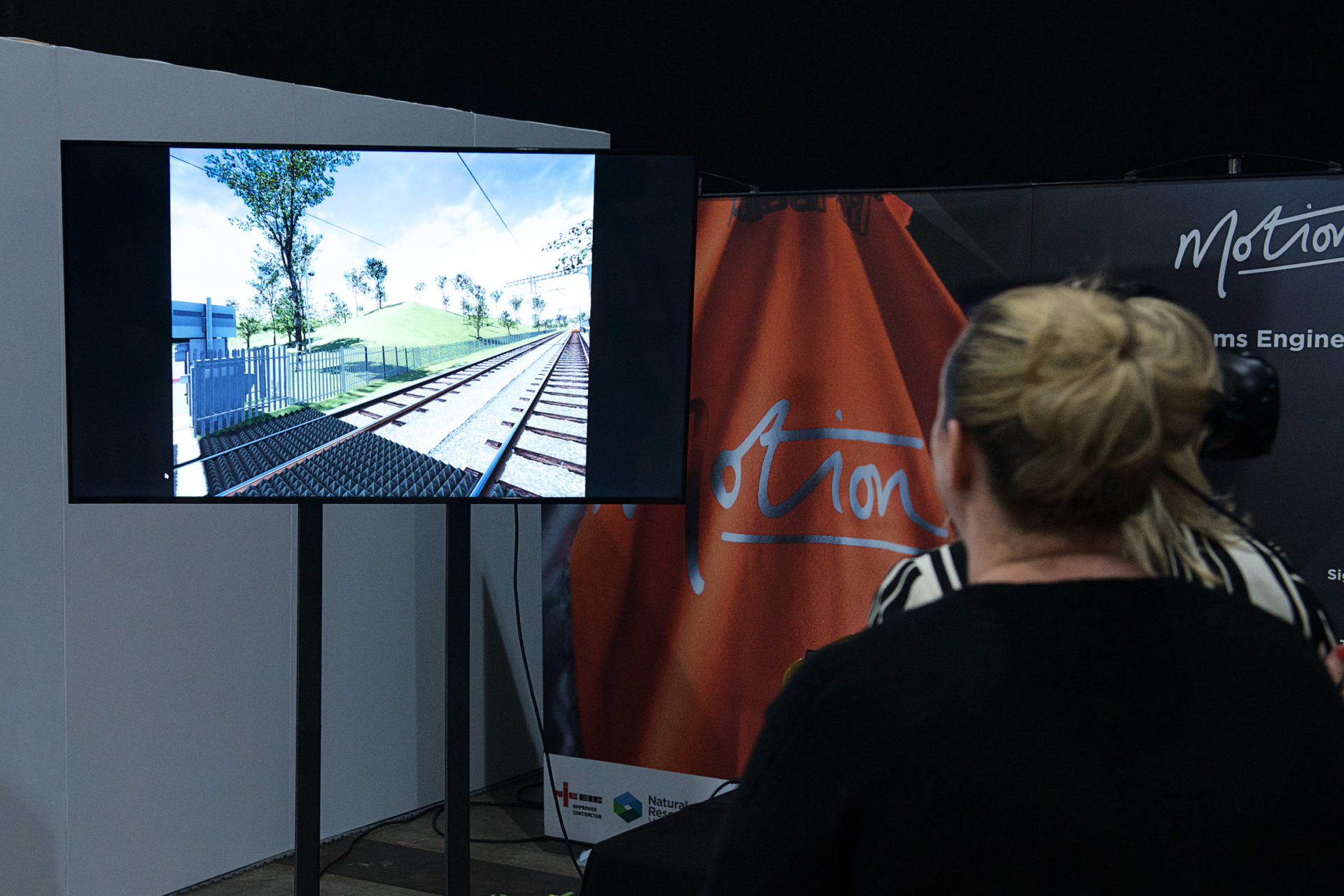 VR is a great tool for educating children on the dangers OF level crossings
Motion Reality, the not-for-profit arm of engineering firm Motion Rail, is touring schools and Big Bang Fairs with its specially designed virtual reality (VR) software that raises awareness of the dangers of playing on the railway.
Users have to strap their head into the VR headset and grab two controllers, which allow them to move around in the virtual world. They're then presented with a typical scenario at an automatic half barrier level crossing. When a train begins its approach, the barriers begin to close and the user has to decide whether to attempt to cross or not.
If they decide to cross as the train passes, it does hit them but doesn't result in any gore. However, as RailStaff found out, the body naturally braces for impact as the train gets closer, which leaves a lasting impact. Such is the reaction of some users, that a colleague from Motion Reality was on hand to stop them from jolting backwards.
60,000 people die as a result of out-of-hospital sudden cardiac arrests each year
In one of the show's igloo-like training domes, Track Safety Alliance chair Brian Paynter continued his campaign to push for more automated external defibrillators (AEDs) in public places as well as greater awareness and confidence in people using them.
Teaming up with manufacturer Cardiac Science, Brian stressed that every second counts when it comes to reacting to someone in sudden cardiac arrest. Around 60,000 people die as a result of out-of-hospital cardiac arrest each year and 12,000 of those deaths occur in work. Significantly, life expectancy reduces by as much as 10 per cent for each minute that passes after cardiac arrest.
Currently no government regulation surrounding access to AEDs exists, but Brian wants defibs to be viewed as critical as fire extinguishers or first aid boxes.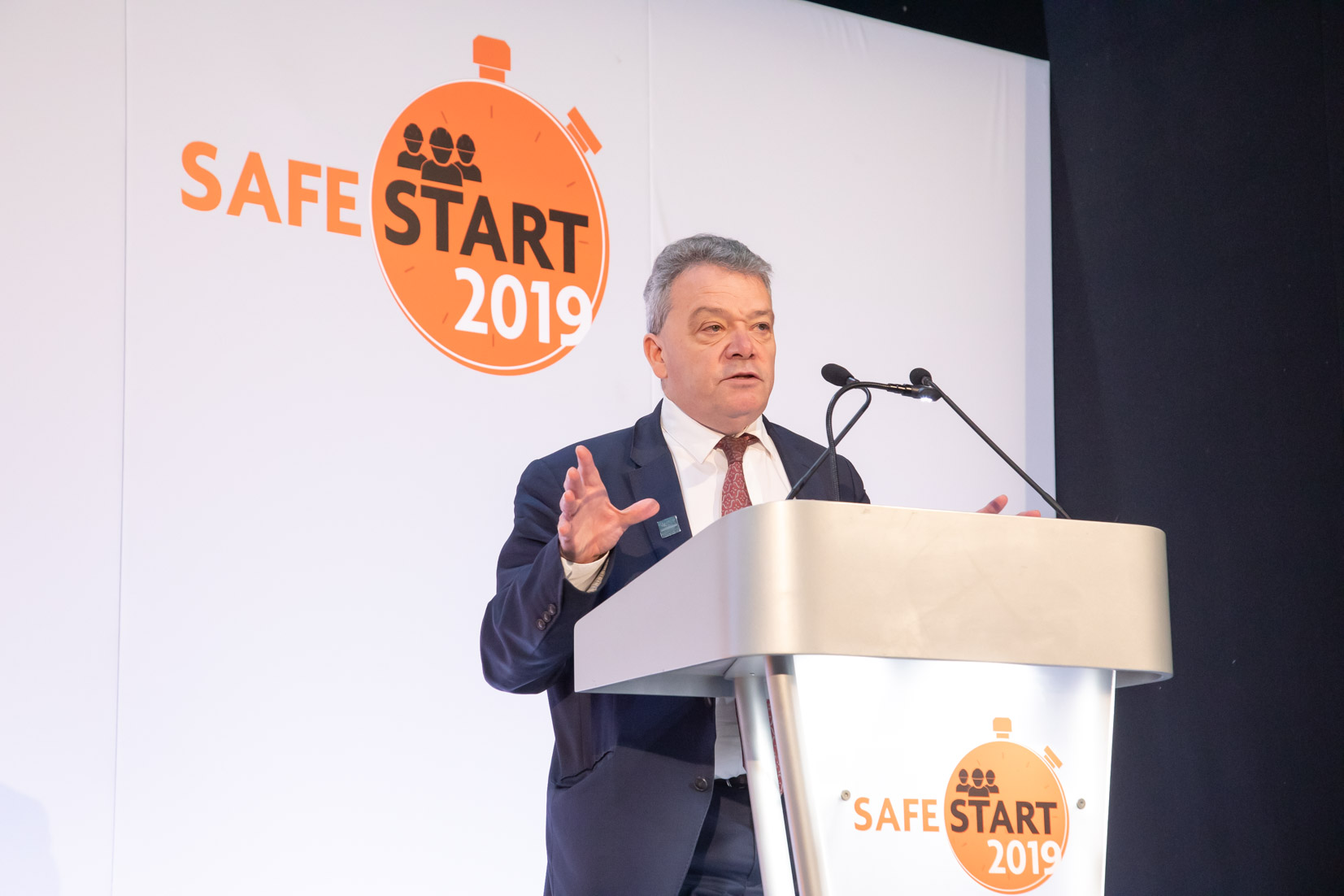 The end of detonators, whistles and horns?
ORR chief inspector Ian Prosser also featured on the day's conference programme. He has spent more than 10 years at ORR and took the opportunity to reinforce his challenge for CP6 over the use of outdated techniques to manage the safety of track workers.
He said: "I have said to the industry numerous times in the last few years that before I retire, I want to see the end of detonators, whistles and horns. In the 21st century this is not really acceptable. That technology goes back to the 1800s.
"We funded Network Rail to develop technology in CP5 so in CP6 I've been telling the route managing directors I want to see this implemented. I want to see real change in the way in which we do track work."
The Million Hour Challenge
Prosser also talked about the upcoming 'Million Hour Challenge'.
Working with the Samaritans, the challenge will see rail staff volunteer one million hours in support of the charity, whether this is through fundraising, supporting branches or volunteering to be a listener. Pilots have already been run and the project is expected to be launched on March 27. So far RDG, ORR, Network Rail, RSSB, MTR Crossrail and TfL have signed up.
Prosser said that 60 per cent of people experience mental health problems at work but only 10 per cent tell their manager. He hopes volunteering will help to initiative more of those conversations in the workplace and improve mental health and wellbeing.