The annual pride festivals provide a visible and colourful reminder that the LGBT+ movement is now (largely) an accepted part of society. Cancelled in 2020 due to the Covid-19 crisis, how did the movement keep its momentum going?
In the rail industry, the various LGBT+ (lesbian, gay, bisexual, transgender + others and supporters) networks worked together to move the whole celebration online. Paul Prentice, chair of Southeastern's LGBT+ sOUTheastern network, reports on a unique event.
Who would have thought that the rail industry's LGBT+ community would have been able to get together to celebrate the annual Pride season during a pandemic?
On the face of it, the task seemed impossible, as the restrictions of physically congregating in cities across Britain – as Network Rail and train operators and other parts of the industry have increasingly done in recent years – would have put paid to Pride in the way many of us know and love it. With 2020 Pride London cancelled, along with every other physical event, a new approach was needed in light of 2020's unprecedented circumstances.
The industry has come some way, over the past five years or so, in celebrating the diversity in its ranks, and it would have been a shame not to have marked the Pride season this year at all. June traditionally marks the beginning of Pride events in many places across the world, although, in the various parts of the UK, they take place as early as May and as late as the August Bank Holiday. Doing the whole thing online meant that some of the difficult logistics around arranging the usual programme of events were overcome.
Network grouping
Led by Harry Levey from Network Rail's LGBT+ network Archway, in partnership with a team of representatives from 17 companies including Avanti West Coast, East Midlands Railway, Great Western Railway, Merseyrail, Network Rail, ScotRail, Southeastern, South Western Railway, Transport Focus and West Midlands Trains, a diverse programme of events allowed people to simply log on, watch, and participate wherever and whenever they were able to.
Events included an online streaming of the iconic 2014 film Pride, jointly hosted by ScotRail and Southeastern, while a seminar held by Network Rail looked at the history of Pride.
No lockdown experience would have been complete without a quiz, and so the Midlands train operating companies (TOCs) East Midlands Railway, London Northwestern Railway, and West Midlands Trains clubbed together to put on such an event.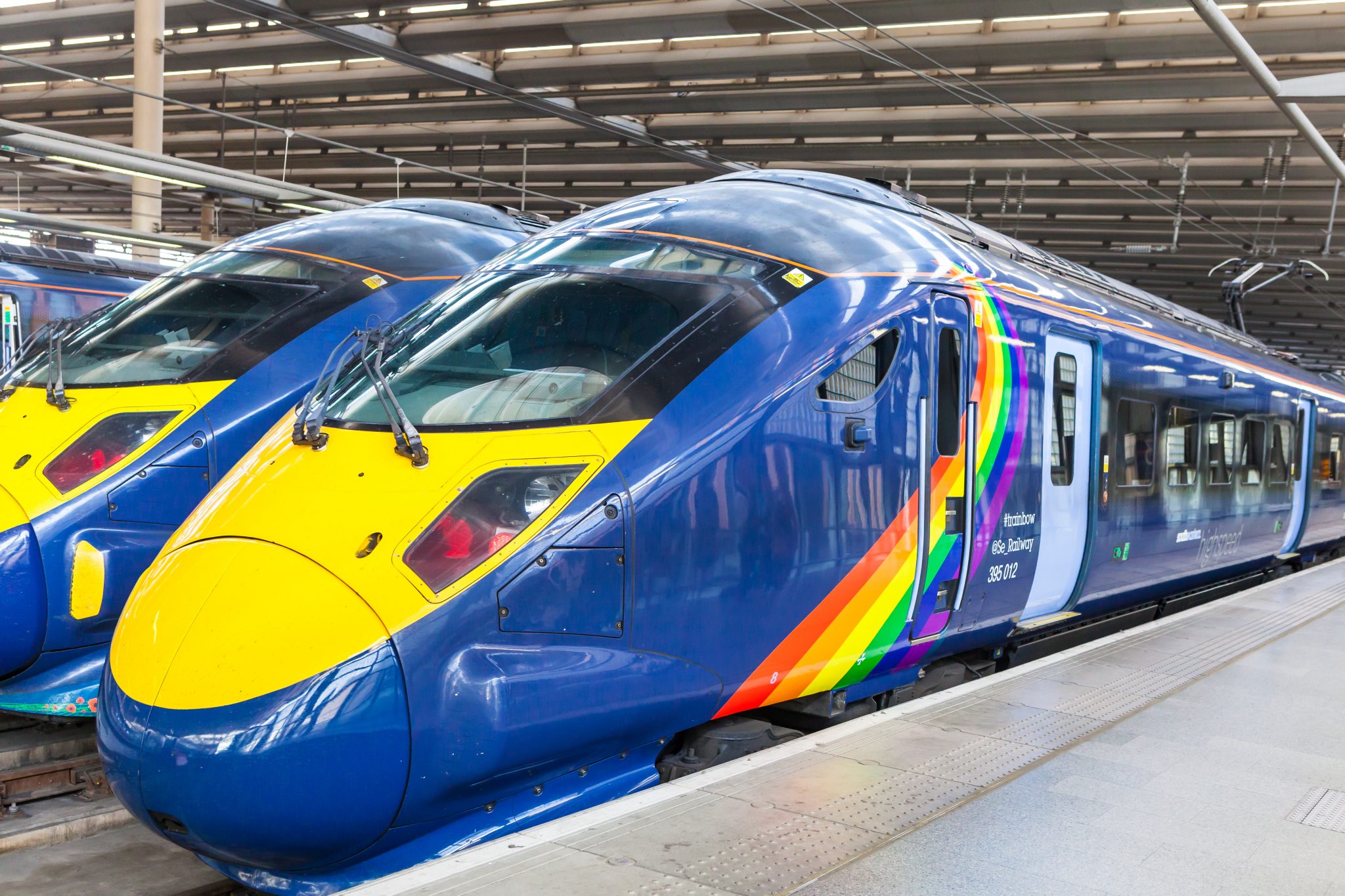 A session discussing how the rail industry could put LGBT+ passengers first was held separately by EMR, while colleagues' recollections of coming out were shared in a joint session held by Avanti West Coast and Network Rail, with the latter organisation also looking back at the history of Pride.
Merseyrail sought to answer frequently asked questions with an 'LGBT+ 101' explainer, and a finale announced the winners of the Pride festival photo competition, a rail industry rainbow flag collage and a 'Virtual Pride' video.
Harry Levey, an assistant commercial scheme sponsor at Network Rail and its LGBT+ network's Prides lead, said: "I'm really proud of everything we've achieved in the industry's first online Pride festival.
"It would not have been possible without the dedication of our rail industry partners and hosts, who worked above and beyond to make it a reality and a success.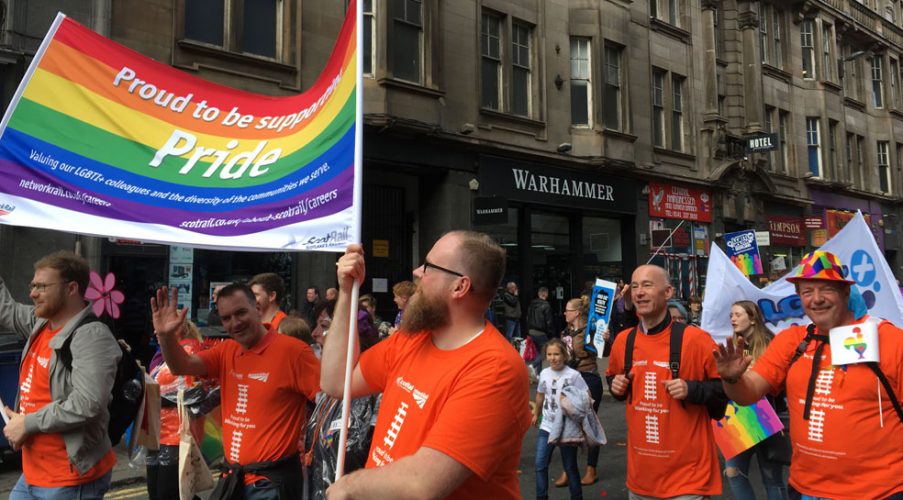 "The resounding takeaway has been that, when we come together as an industry, we can achieve so much more, and I hope this is just the start of cross-industry working around diversity and inclusion."
Reaction
Harry's positive reflections were borne out by feedback from those who participated – over 500 people in total. Some 97 per cent of attendees said they would speak highly of the events, while 91 per cent rated the events overall as "very satisfying".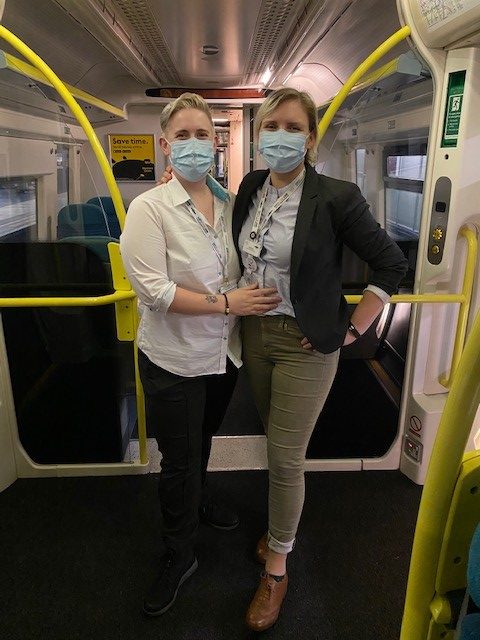 Although only 61 per cent of the attendees felt the rail industry is an 'inclusive place to work' – not high enough really – that in itself could be seen as a useful barometer of how LGBT+ colleagues are feeling at present and a base from which to work to improve things. And some of the participants' feedback helped paint a rounded picture of their experience of the events.
"Staff personal experiences were shared. Some were difficult to listen to, but it shows how far LGBT+ acceptance has come and improved" fed back one respondent, while another felt that hearing from so many other train companies "felt like a big focus group", adding: "I got a lot of ideas out of the session".
With government Covid policy, and the resultant health advice, changing almost every week, the pandemic continues to have an enormous impact on every aspect of the way we all live and work. As a consequence, mass public events are clearly still a long way from returning. The rail industry, which is dominated so much by shift working, particularly on the front line, is as geographically dispersed as any other industry – not least within individual TOCs and Network Rail.
While physical Pride events are likely to be back as soon as it is safe to hold them, attending meetings or events in person can be challenging at the easiest of times. With technology proving it can be done, perhaps online Pride festivals offer an inspiring template for the future?
---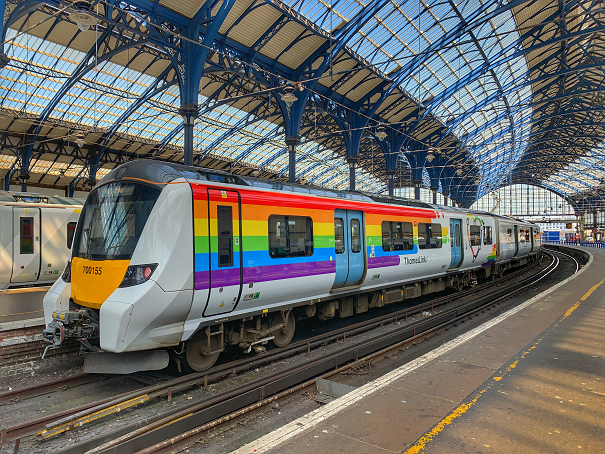 Rail industry presents…
Pride festival hosts:
Apeksha Naik, West Midlands Trains;
Christopher Buckley, East Midlands Railway;
Harry Levey, Network Rail;
Jackie Painter, Network Rail;
Karen Wallace, ScotRail;
Naseem Anwar, Network Rail;
Paul Prentice, Southeastern;
Paula Reed, Network Rail;
Paul Blair, Great Western Railway;
Shane Andrews, Network Rail;
Tracey Upton, Merseyrail;
Tom Bell, South Western Railway.
---
LGBT+ network groups in the rail industry
Compared with a decade ago, there is considerably more representation for LGBT+ staff in the rail industry today, in line with the diversity and inclusion strategies that are now taken much more seriously by rail industry leaders.
Network Rail's Archway is perhaps the best-known industry network, covering the entire country, with a conference held each year (see November 2019 issue of RailStaff). There is also representation in the three main trade unions: TSSA (the LGBT+ Network under the 'Inclusive Rail' banner), RMT (LGBT+ Advisory Committee) and ASLEF (LGBT+ Representative Committee).
Train operators have also started to develop LGBT+ networks, many of which have come into existence in the last few years These include LGBT+ sOUTheastern, Govia Thameslink Railway's LGBT+ Network, Platform (Rail Delivery Group) and others in the Abellio and FirstGroup companies. Many of these took part in this year's online Pride festival or held their own online festivals.
Pride: the movie
For anyone who's unfamiliar with LGBT+ Pride, the 2014 film Pride, written by Stephen Beresford and directed by Matthew Warchus, is an entertaining insight into the movement that has fought for LGBT+ rights over the last 50 years – with specific reference to the LGSM support of the Miners' Strike. Starring Bill Nighy, Imelda Staunton, Dominic West, Paddy Considine and Andrew Scott among others, the film is based on a true story and has many heartwarming moments that depict the difficulties faced by LGBT+ activists – as well as striking miners – in a very hostile environment.
The film covers the political struggle faced by both groups with plenty of humour and tells a story that is not often recounted, nearly 40 years after the events on which it is based.
---
A proud history
The modern-day Pride events have their origins in the gay liberation movement that was formed in the 1960s in the United States, Canada and Europe. The first official UK Gay Pride Rally was held in London in 1972.
The purpose and format of the event has changed over the years, as changes to legislation have – in the main – resulted in advances in equality for LGBT+ people.
In 1981, the Pride march and rally was held in Huddersfield, in solidarity with the Yorkshire gay community following harassment by the West Yorkshire Police, who had repeatedly raided the Gemini Club, a leading nightclub in the North of England at the time.
A group called Lesbians and Gays Support the Miners (LGSM) supported striking miners in the 1984-85 Miners' Strike, fundraising through 'Pits and Perverts' concerts to raise money. Representatives of the National Union of Mineworkers joined LGSM at the 1985 Pride March in recognition of their support and continued to support LGB rights, eventually leading to policy changes in the Labour party and repeal of anti-LGB legislation.
The controversial Section 28 – a law that forbade local authorities in charge of schools from 'promoting the teaching in any maintained school of the acceptability of homosexuality as a pretended family relationship' – led to numbers increasing on the march in protest in 1988. The law was reversed in 2000 in Scotland, and in the rest of the UK in 2003.
In 1996, following a vote by the members of the Pride Trust, the event had become more carnival-like and was renamed 'Lesbian, Gay, Bisexual and Transgender Pride' – becoming the largest free music festival in Europe.