Construction
Forecasts from the Construction Industry Training Board (CITB) predict the sector will need an extra 168,500 workers by 2023 as a result of continued growth, bringing its total workforce to 2.79 million.
Like rail, the construction workforce has traditionally been a male-dominated one and, to meet the need for new recruits, it's looking to draw on talent from previously underrepresented areas. This includes women, and people from BAME (black, Asian and minority ethnic), who currently make up 16 per cent and seven per cent of the construction workforce, respectively.
"The rail sector might be similar to us in terms of how we've recruited for many years; it's been very heavily weighted on word of mouth, very often 'my dad was in the construction industry and so will I,'" said Sarah Beale, chief executive of CITB. "When you're looking at the size of the need and the fact we're are only fishing in half the pool for our talent, we're never going to attract that many people if we're literally only looking at stereotypical white men from certain backgrounds and, at the moment, certain ages."
CITB, which has a similar remit to the National Skills Academy for Rail, leads its sector's efforts when it comes to the promotion of careers in construction. Over the last few years it has planned and is now starting to introduce what Sarah describes as "the whole infrastructure" for attracting the next generation of talent. This begins with inspiring children from an early age, leads to encouraging them to find out more about the sector and then giving them constructive work experience placements before connecting them to jobs.
This work can be broken down into a number of schemes: 
Construction Ambassadors – 850 trained ambassadors, from CEOs to apprentices, use their passion for construction to raise awareness of the careers paths and opportunities available. 
Careers campaign – In August, testing began on a £10 million industry-wide campaign aimed at, and largely designed by, 'Generation Z'. Drawing on campaigns such as the Royal Navy's 'Made in the Navy', Sarah said it won't draw attention to specific details of a career in construction but will get people excited about an industry where you can "make a huge legacy". Media channels such as YouTube and Instagram, as well as buses and bus shelters, will be targeted when the campaign goes live next year. Sarah said the website has been extensively tested with the target audience in mind, particularly looking at language and colours.
GoConstruct – an awareness raising website that matches users' interests and skills to job roles, busts damaging myths surrounding safety, culture and careers, details the rewards and benefits as well as descriptions of some 150 different job roles. Sarah said the website received one million visitors in 2018, 52 per cent of which were women.
Open Doors – a programme where hundreds of construction sites open up to members of the public so they can see the variety of construction careers available.
Construction Skills Fund and the Onsite Experience Commission – these schemes, totalling £40 million, will support 31,000 substantial work experience opportunities thanks to the creation of training hubs on live construction sites. Done correctly, construction work experience placements are expensive and disruptive to organise because of the nature of the working environment, which this initiative hopes to overcome. Since it launched in November, 250 people – 50 per cent of whom are from underrepresented backgrounds – have already turned work experience into a job.
Pathways Into Construction – Also in August, CITB announced £10 million is being invested into the Pathways Into Construction programme to support 16 projects that help people from diverse backgrounds into construction. For example, in Wales, the Community Impact Initiative will provide nine renovation projects for 72 women to train on along with on-site work experience.
Sarah explained that construction has never had such a joined-up approach, which has led to a "glacial" change from 12 to 16 per cent in gender diversity over the last 20 years.
There is further work to ensure women are retained once they're recruited through the introduction of practical facilities and flexibility in contracts, but Sarah is confident of her industry's approach.
"We've done lots and lots of small interventions that weren't scalable and were never going to make the difference that we need.
"The difference now is we're offering the full suite, and I think that's what's going to make the difference."
---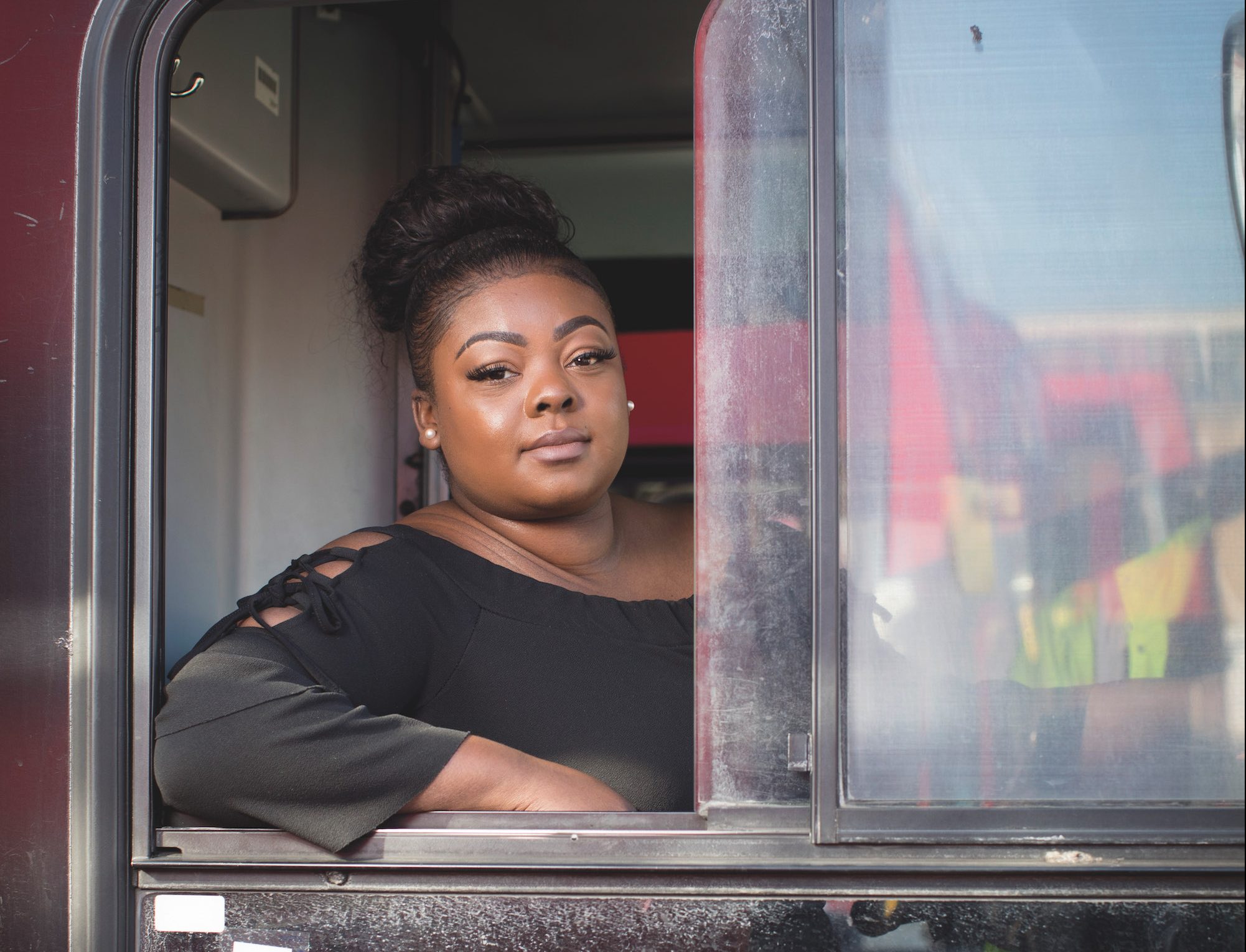 Bus
When it comes to operating speeds, customer interaction and levels of concentration, the roles of a bus and train driver differ greatly. One area in which they are similar, however, is that they are both significantly underrepresented by women.
A recent report from the train driver union ASLEF found that 6.5 per cent of those that occupy the role in England, Scotland and Wales are women. For bus drivers, 7.9 per cent of FirstGroup's 9,739, nine per cent of Arriva's 13,000, 10 per cent of Stagecoach's 13,000 and 10.5 per cent of Go-Ahead's 10,176 positions are held by women.
"The percentage of women drivers in the bus sector currently, which is around 10 per cent, is higher than the overall proportion of women train drivers" said Scott Maynard, Go-Ahead Group interim people director.
Although bus is slightly ahead of rail in terms of the gender diversity of its drivers, it's the opposite when it comes to the entire workforce. Eight out of 10 Go-Ahead employees are bus drivers and the lack of gender diversity in that role has a significant impact on the company overall.
Scott added: "11.2 per cent of our bus workforce is female and it's about the same percentage for our bus drivers. So it's a very different problem to what you have in rail.
"What we're looking to drive forward in bus is more women in a range of roles and levels. It would be good to have more women in senior leadership roles in our bus companies, we still await our first female managing director in bus."
In the bus division, Go-Ahead is working to ensure its recruitment adverts use gender neutral language to ensure they appeal to both men and women – a practice that was tested out on its new bus driver apprenticeship programme, which launched earlier this year with women making up 17 per cent of the recruits.
Go-Ahead has also set itself targets and recently announced it wants to increase the representation of women in its 14,000-strong bus workforce from 11 to 20 per cent by 2025.
Having visible women leaders is essential to achieving this as women respond well to seeing role models in areas they operate in. The company hopes the launch of a new 'Women in Bus' network can help elevate them further. This includes figures such as Angela List, who joined the business in 1977 and is now the longest serving bus driver for Go North East, and Elodie Brian, the first woman to hold the position of chief financial officer at Go-Ahead. 
Scott added: "55 per cent of bus passengers nationally are female, rising to 70 per cent in London.
"We want to have a workforce that reflects our passengers and the wider communities that we serve.
"You connect with people who look like you in some form. You feel welcome in that environment. It's very important."