The 2022 Rail Innovation Exhibition held on 22 march showcased some of the most exciting innovations and projects the rail sector has to offer. daisy chapman-chamberlain covered the event for RailStaff.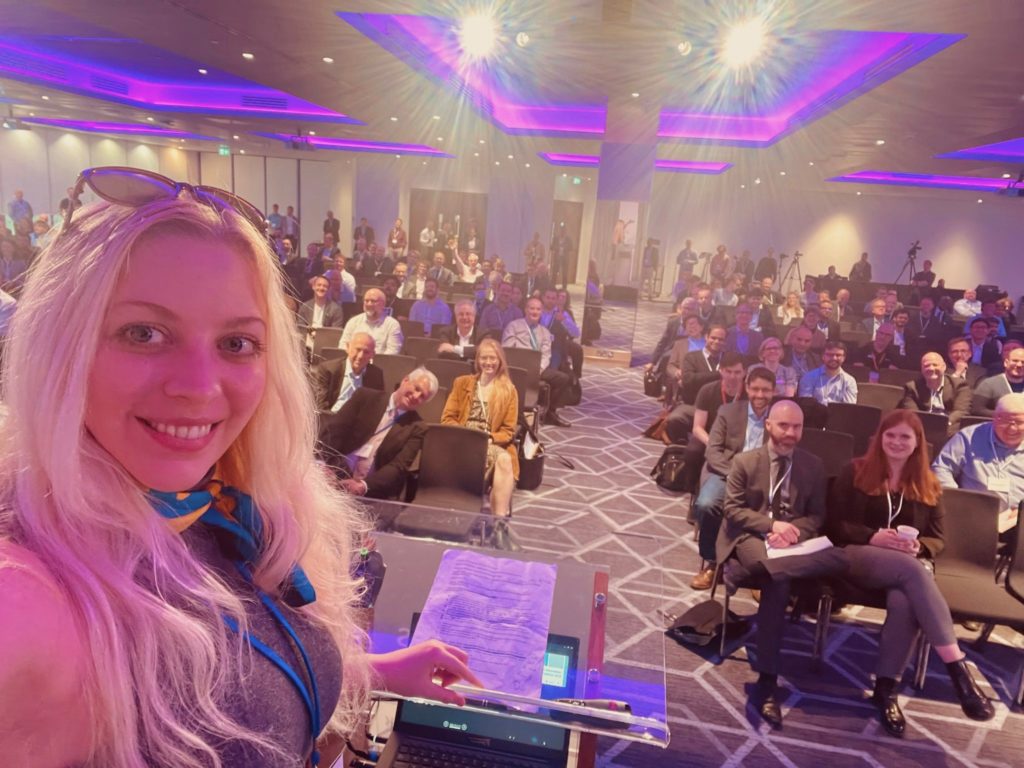 Innovation is crucial to rail. As we move into the future, pushing and striving for better ways of working, more efficient services, happier customers, and a safer network for everyone are all key to success.
While innovation forms the core of these improvements, it also must be developed, delivered, and used in partnership, and with buy-in, from railway staff, both in frontline and back-office roles. Ensuring that new technologies and services work for the people that operate, manage, maintain, and indeed use the networks might seem obvious, but this is often overlooked in the excitement of new concepts or products.
It also explains why collaboration was the core focus for innovators displaying their products at this year's Rail Innovation Exhibition, which saw 500 delegates flock to discuss innovation and create new opportunities. The event, organised by Innovate UK KTN, on behalf of the Department for Transport and Innovate UK, and in partnership with the Railway Industry Association (RIA), celebrated innovation with 65 exhibitors showcasing success from Innovate UK funded projects and beyond.
Forward thinking
Kicking off the event, Rail Minister, Wendy Morton, focussed on the need for rail to move forward and not fall into old ways of thinking: "Our railways are at an existential moment – where they must change not just to survive but to thrive, now is not the time for conformity, or for going back or going by the book. We need creativity and outside the box thinking." This was demonstrated by the exhibitors pushing for the best new technology, services, and ways of working to enhance rail for passengers and freight customers alike, in partnership with the people who keep the network running.
One excellent example of this technology and human partnership approach comes from Window Seater (funded by First of a Kind from the Department for Transport and Innovate UK), which provides high quality geolocated audio stories which link all the fascinating features along the railway, connecting rail travellers to the world outside their window.
Alongside Great Western Railway, they have developed a new Community Rail Content Platform that integrates local stories collected and held by people working within local community rail partnerships (CRPs), with passenger-facing technologies used by GWR. Among the lines already online for passengers to listen along to are Bristol to Weymouth (The Heart of Wessex Line) and Bristol to Severn Beach (The Severn Beach Line).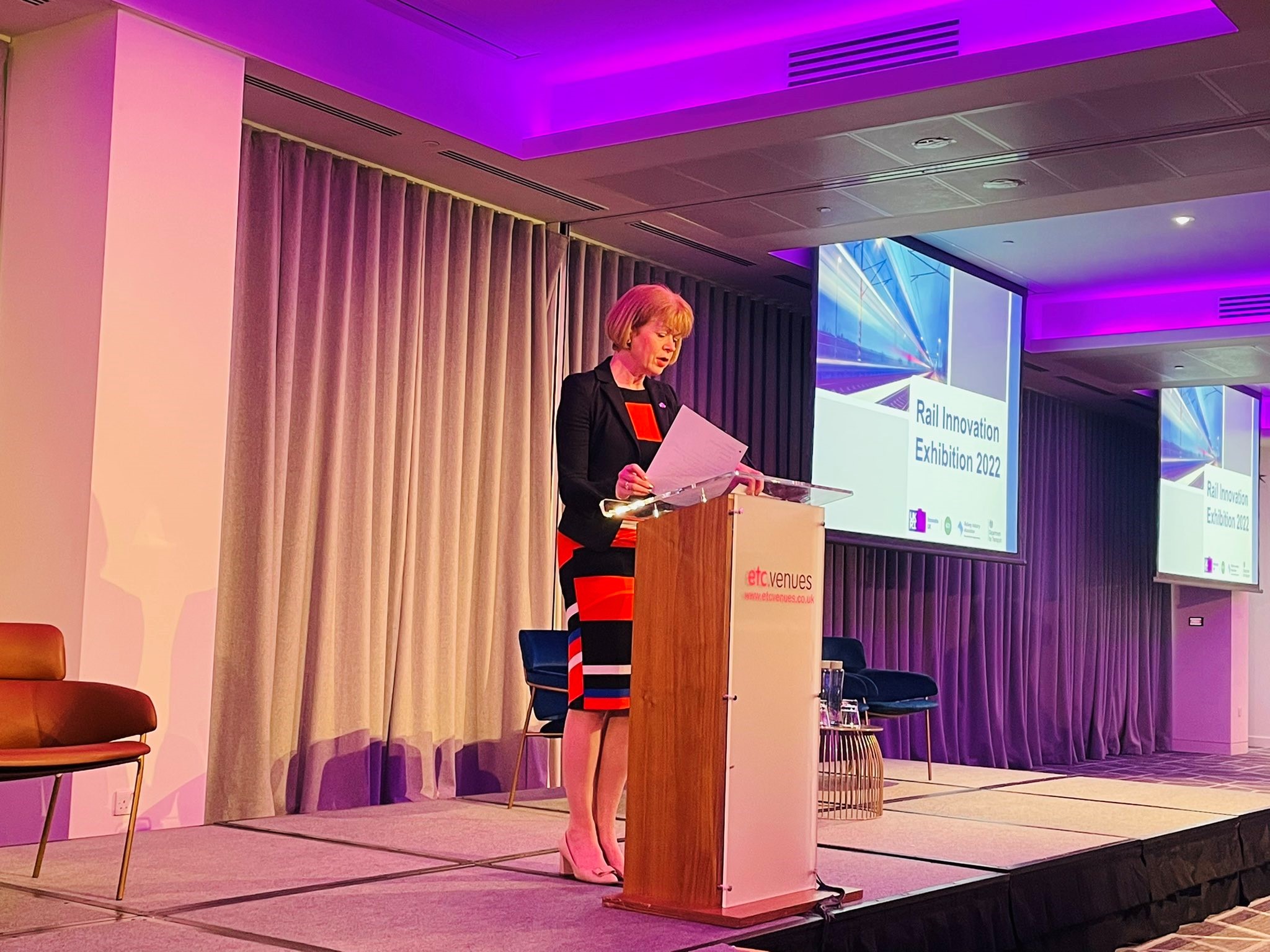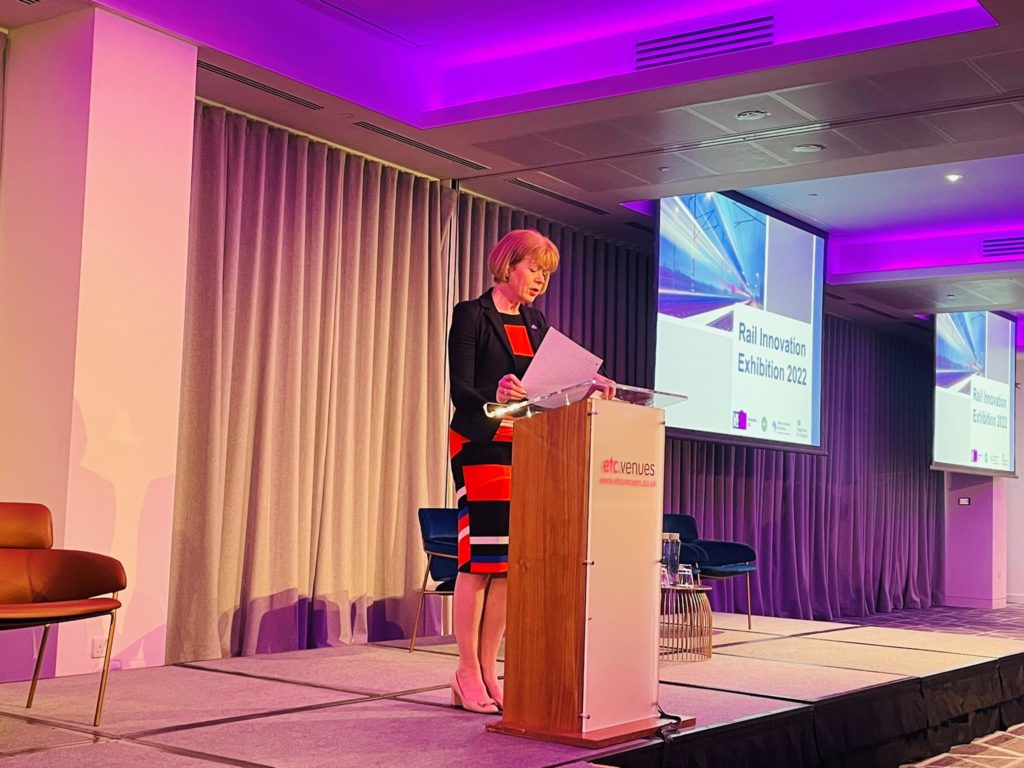 Enabling safer, more efficient working practices for staff is a common theme for projects successfully funded by First of a Kind. In 2021, Dynamic Crowd Measurement Ltd was successfully funded to deliver their CCTV-based passenger density sensing and optimisation project. Accurate information on crowd measurements is put into the hands of rail staff to ensure they can plan safer services and deliver the all-important excellent transport experience for all. And, as a bonus, it provides direct information to passengers on crowding in carriages and on platforms, allowing for better journey self-management and increased confidence in the rail system.
IRIS, an information system for railway station staff, developed by Liverpool's John Moores University, is also an outstanding example of empowering rail staff through information innovation. The system equips staff with a two-way communication mechanism, currently used by Merseyrail, with richer, faster, and more accurate information from different sources into one simple, single view. It also has a real-time passenger count at platforms, allowing staff to quickly understand the situation in the station with a quick glance to make informed decisions.
People focussed
Of course, staff are central beyond technology, and in the roles that they play on the network. The Mayor of London's recent campaign 'Have a word with yourself, then your mates' focusses on men challenging their friends when they witness sexual harassment of women. On rail, we know that women's safety (and the safety of all) remains a challenge; with statistics from the British Transport Police released on 4 November 2021 showing that reports of sexual harassment on public transport increased by 63% in summer 2021 compared to the same period two years earlier.
Charities such as Visible Platform are aiming to assist women in coming forward to report crimes when they take place; but rail staff are key in ensuring crimes can be prevented by providing a human assistive presence, and also ensuring that crimes can be stopped and that victims are supported. Staff are also crucial in ensuring accessibility across rail for those living with disabilities; ensuring staff have the right technologies and innovations in this space is crucial in enabling access for all, and that staff are supported.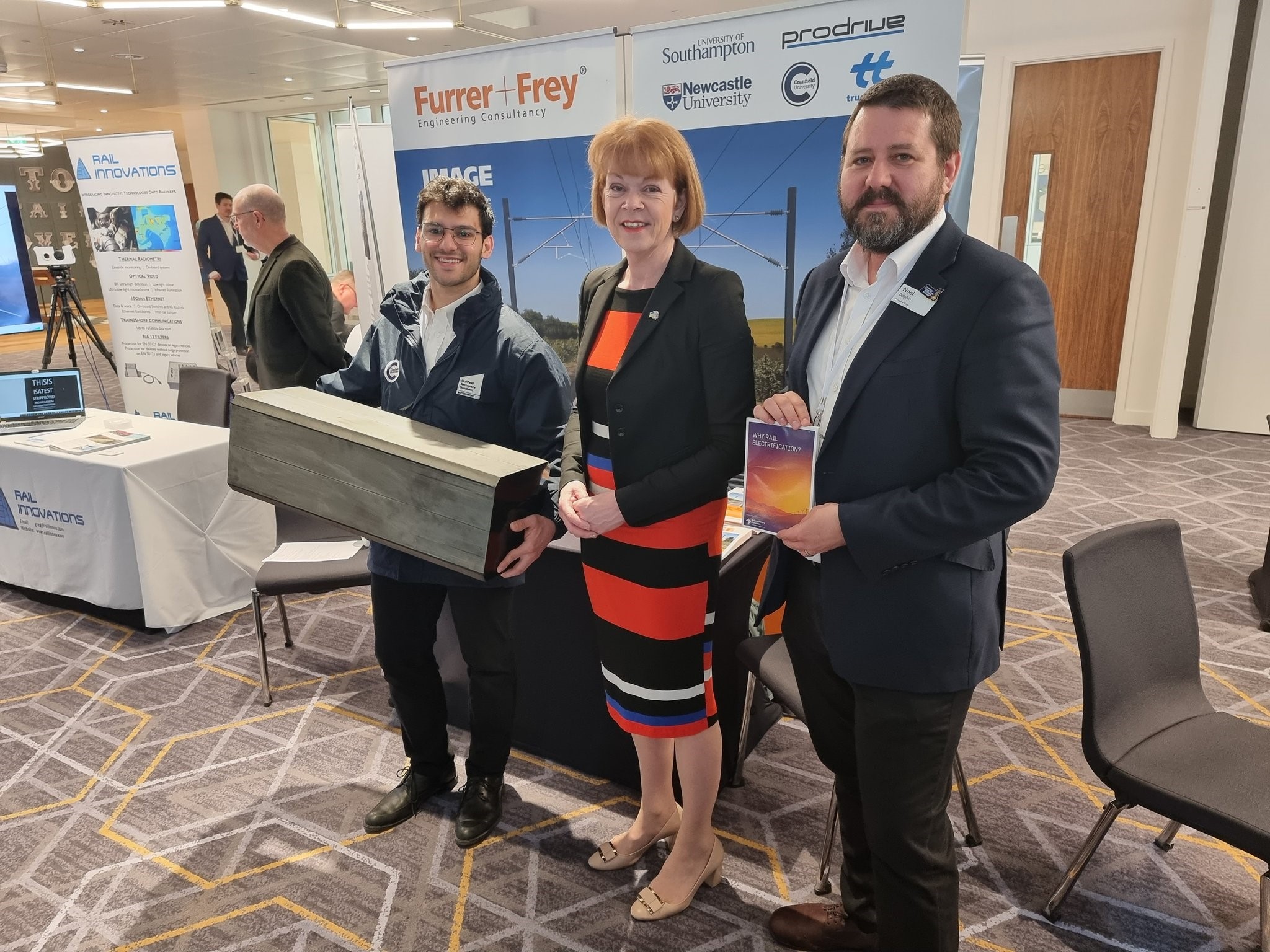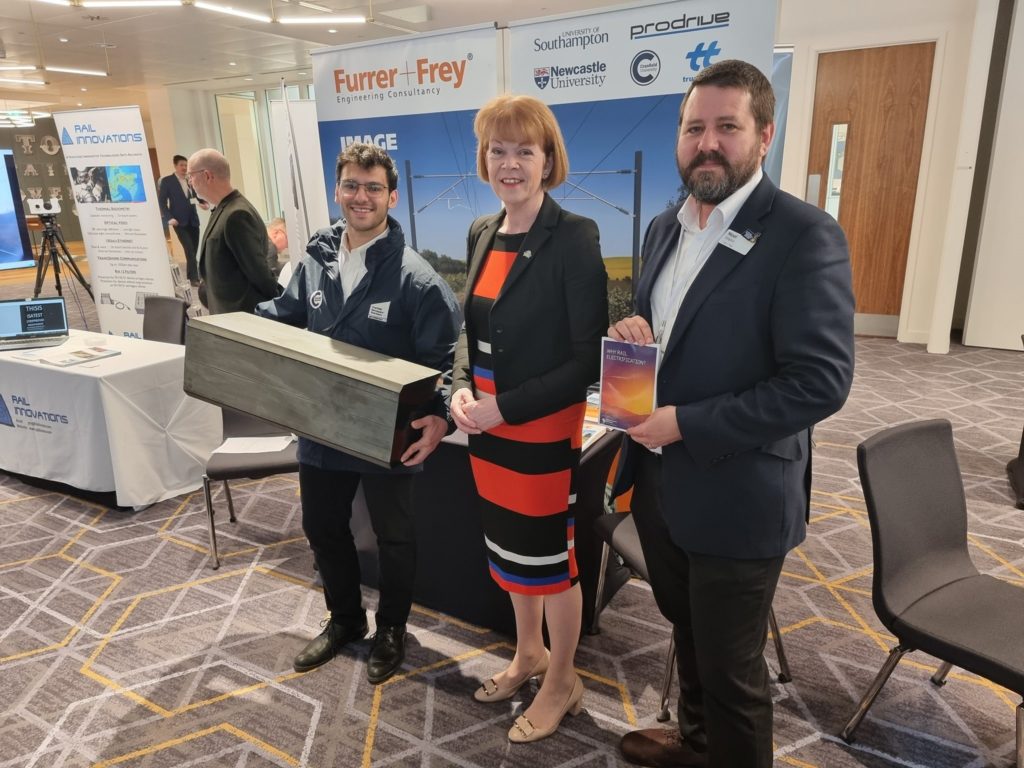 Ingenious solutions
Finally, innovation can even help tackle the dreaded SPAD (signals passed at danger) for drivers. Low adhesion in the Autumn period can exacerbate this risk; when leaf fall contributes to slippery conditions, leading to SPADs, disruption and more. Enter CoCatalyst Ltd, with the ingenious solution of spraying water from the train when a slippery rail is detected to clear leaf fall, improve traction and braking, and progressively reduce the chance of later trains having braking problems.
Marcus Waite, chief engineer at McLaren Automotive joined the event to discuss some best practice examples that rail could learn from. He shared one such example; to achieve the best tuning of its McLaren Senna sportscar for track running, the company's Aerodynamics and Vehicle Dynamics departments both brought their own expertise to the car for a joint development track test. The knowledge that each of the teams held about the car was shared in real time and in person, and they ended up with a configuration of the car that matched the tyres, suspension settings and aerodynamics to deliver the fastest track car with a numberplate. Whilst consultation does take place between all the different end-users for rail (especially rolling stock), there is a lot we can take away from this concerning collaboration, communication, and agility of decision-making (in line with safety regulations and standards).
Technological solutions are progressively improving rail, but it remains a fundamental fact that these must exist alongside and working cohesively with rail staff; to deliver into the future of rail, to ensure Great British Railways oversees a globe-leading network, and to facilitate the best possible and safest experience for both passengers, freight customers and staff.
Daisy Chapman-Chamberlain is the Rail Knowledge Transfer Manager at Innovate UK KTN, connecting ideas, people, and communities to respond to challenges and drive positive change through innovation.
Find out more at: https://ktn-uk.org
Contact Daisy at: [email protected]