McGinley Support Services is proud to support Safety Person or Team of the Year at the 2022 RailStaff Awards. As one of the UK's largest specialist recruitment businesses, McGinley provides permanent, contract and temporary staff, at all levels across the rail and infrastructure industry. It builds and manages workforces all over the UK, finding jobs for workers, developing their skills and experience, and forging long-term relationships.
McGinley has thousands of skilled professionals working with its customer base every week. Much of its workforce has stayed with the firm for a number of years, relying on it to match their skills and experience with the best opportunities across the country.
Many of the McGinley recruiters come from a rail, construction and infrastructure background, so truly understand what customers are looking for.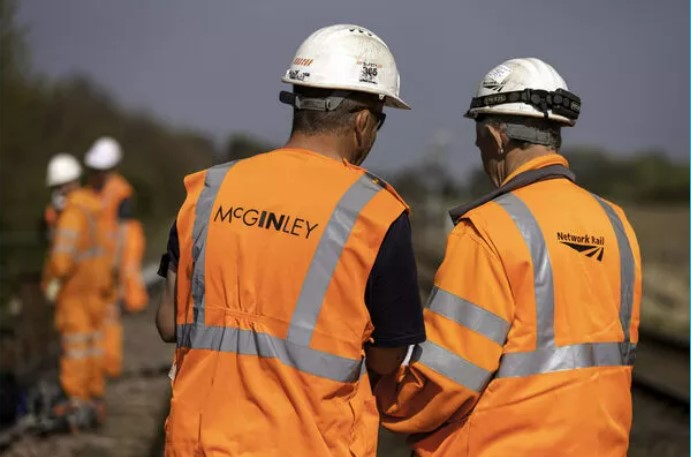 Principles and ethics
McGinley is a family business, driven by a set of core values, all interwoven and important. It has adapted those values to help run its business, and integrity, respect, safety, inclusion, and improvement, define how it behaves.
When it comes to its people, McGinley is guided by the same principles and it is a signatory of the People Matter Charter. The safety of its workforce is an essential part of its service.
Colin Edge, Managing Director of McGinley, says: "These awards are an extraordinary celebration of the exceptional people making the rail industry a leading success story. At McGinley, we continue to rise to the challenge of providing the railway with the best personnel solutions and support services it needs to continue to prosper."
In supporting the RailStaff Awards, OSHE Director John Jebson adds: "The RailStaff Awards are key in recognising the people who work tirelessly day and night to collectively help deliver projects on time and safely, as we build back better now and in the future."
Innovative and sustainable
McGinley prides itself on being a leading innovator in the industry in terms of service, embracing safety systems, and workforce management. Upholding the strong safety focus and quality culture necessary for the rail and infrastructure sector to meet its own objectives means thinking about the overall wellbeing of all workers – whether contingent labour or permanent staff.
It also means considering what the whole industry needs to do to develop a sustainable workforce for the future. Making the rail sector attractive to new entrants means providing an effective career path, with sufficient, regular shifts, and effective training programmes to upskill each individual worker. That will provide the skills the industry needs, whether across track maintenance, electrification or signalling works, plus major projects.
"McGinley is a loyal supporter of the RailStaff Awards and is making a similar growing contribution to Britain's fast-expanding railway," says Adam O'Connor, Managing Director of Rail Media Group which is hosting the awards. "It is at the forefront of providing top-grade rail professionals to lead and deliver a safer rail network and it is fitting that it is backing the Safety Person or Team of the Year award at this year's RailStaff Awards."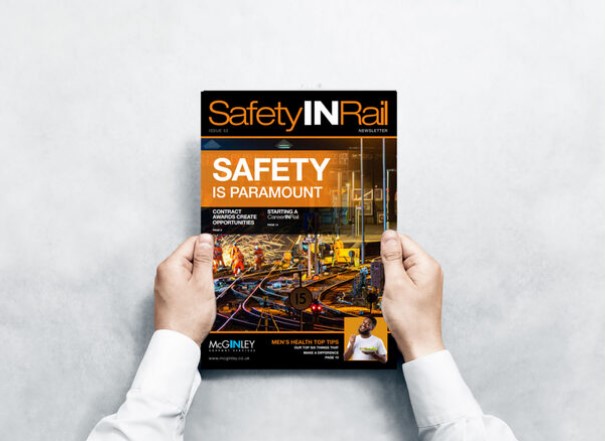 Spreading the safety message
SafetyINRail, McGinley's specialist safety magazine, aims to ensure that all McGinley workers, colleagues, clients, and stakeholders are kept up-to-date with industry developments and guidelines. The publication helps to share the company's safety message with as wide an audience as possible.
SafetyINRail covers topical issues about safety and new requirements when working on the Rail network. It also regularly features individuals who have really made a difference, either by helping others or progressing with training and other achievements.
SAM mobile app
McGinley is a previous winner of the Safety Person or Team of the Year award, having taken the title in 2019. As one of the founding members of the Track Safety Alliance, the McGinley Safety Team works tirelessly with peers to create a safer railway environment.
It is also the driving force behind the innovative mobile reporting app 'Safety at McGinley', or SAM for short.
In its current form, SAM is a bespoke multiplatform app designed to give users a 'one-stop' safety experience and knowledge base. It allows users to report close calls and receive and give safety briefings anytime, anywhere.
As one of the first of its kind, SAM enables live safety feedback from the site directly to the McGinley Safety Team as well as ensuring the successful implementation of railway safety briefings.
"It's taking mobile platforms to the next level," says John Jebson. "It's not one dimensional, it's taking a communication that we want to give to the workforce and then receiving an equivalent confirmation back. So, we can brief things in real time, get feedback and we can get worker participation a lot easier than just sending a one-way message. Everybody carries a smartphone these days, we don't want to carry reams of paperwork around."
Initially, the idea for the app was brought about through a collaboration between the internal health and safety team, safety representatives, and frontline workers plus client management.
Each worker reporting a close call through SAM receives an email to thank them and outline actions that may be taken. This confidential, personal touch has been vital to changing worker perceptions of close-call reporting, which have risen by 70% since SAM launched in April 2018.
Image credit: McGinley / istockphoto.com