Lockdown has been a strange time, with events cancelled and most people working from home. So why has Young Rail Professionals been busier than ever?
While the country may be in lockdown, there has never been a busier time for YRP! Across the regions, it has been running webinars, discussion panels and even a virtual pub social – all online. With topics ranging from 'Levelling up the North' to 'Mental Health' – a particularly relevant topic during this stressful time – there has been something for everyone.
Over the last few months, our Networking and Development team and our fantastic regional committees have been squirreling away to deliver a programme of webinars to the YRP community covering an impressive array of topics.
These kicked-off in May, when YRP North East (spearheaded by Oliver Craig) welcomed David Horne (LNER), Maggie Simpson (Rail Freight Group) and Tim Wood (Transport for the North – TfN) to discuss the current status of the UK rail industry and future visions.
After a flying start, YRP North East zealously maintained momentum, delivering both an excellent discussion on two topics – levelling up the North with rail programmes (in partnership with Network Rail and TfN), and a look at the industry through a freight lens, with insights from John Smith (GB Railfreight) and Lee Armstrong (Associated British Ports).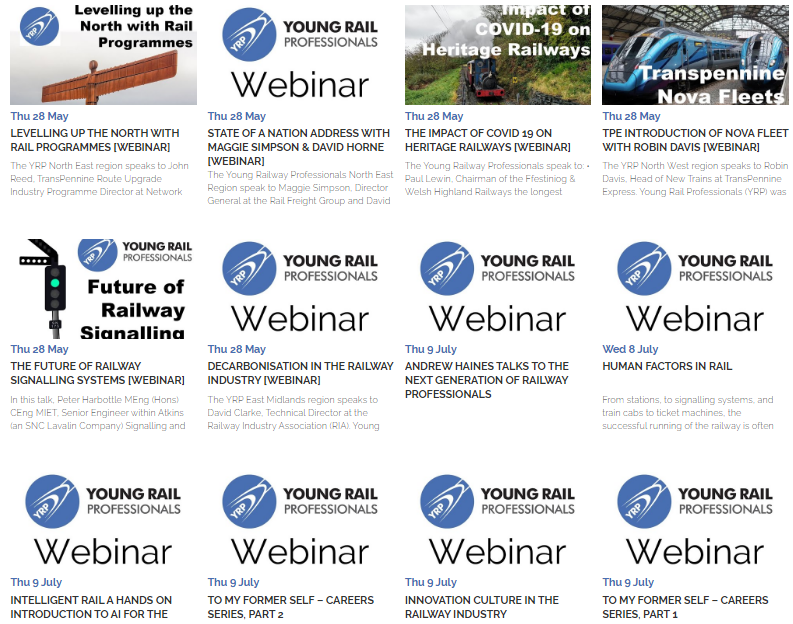 Not wanting to be left behind, other YRP regions were soon hot on their heels. YRP North West partnered up with Women in Rail and Robin Davis (at the time, head of new trains at TransPennine Express) to discover more about TPE's introduction of the NOVA fleet.
For YRP East Midlands, decarbonisation within the rail industry was the focus of their discussions with David Clarke (RIA). YRP London and South East collaborated with the Safety and Reliability Society on a lunchtime seminar about RSSB's work stimulating cross-industry initiatives and projects, maximising data, and promoting innovation. They also got together with Ali Parandeh (Hack Partners) for a wonderful introductory workshop on Artificial Intelligence in the rail industry, as well as hosting separate webinars on 'Human Factors in Rail', 'Disrupting Disruption' and 'Digital Innovation and Customer Experience'.
YRP Scotland enthusiastically secured time with Alex Hynes (Scotland's Railways), for a talk on Scotland's rail industry – touching upon Alex's role, current and future projects and prospective challenges, particularly in light of Covid-19. Meanwhile, YRP West Midlands welcomed Peter Harbottle (Atkins), to discuss the future of railway signalling systems, and partnered with Women in Rail to hear from Alex Burrows (BCRRE) on decarbonisation, digitalisation and de-coding Covid-19.
Collaborations also took place between YRP regions. YRP East Midlands and YRP West Midlands combined forces to talk about mental health with Wendy McCristal (The Mental Wealth Company) and our Northern YRP committees teamed up to deliver an inspiring series of insights featuring Anna-Jane Hunter, Nina Lockwood, Raj Basi, Gavin Thomas, Louise Shaw, Lucy Prior, Juergen Maier and Finbarr Dowling.
YRP's national initiatives stole some of the limelight too. Our heritage railway engagement lead, Matthew Teller, delivered a fantastic webinar discussing the impact of Covid-19 on heritage railways, with speakers Paul Lewin (Ffestiniog & Welsh Highland Railways), Michael Whitehouse (Vintage Trains) and Jonnie Pay (Spa Valley Railway), and our networking and development lead, Jacob Cooper, coordinated a popular session with Andrew Haines (Network Rail), exploring Andrew's career to date, his views on rail evolution (and the next generation's role in this) and the key challenges facing the railway, including potential mitigations/solutions.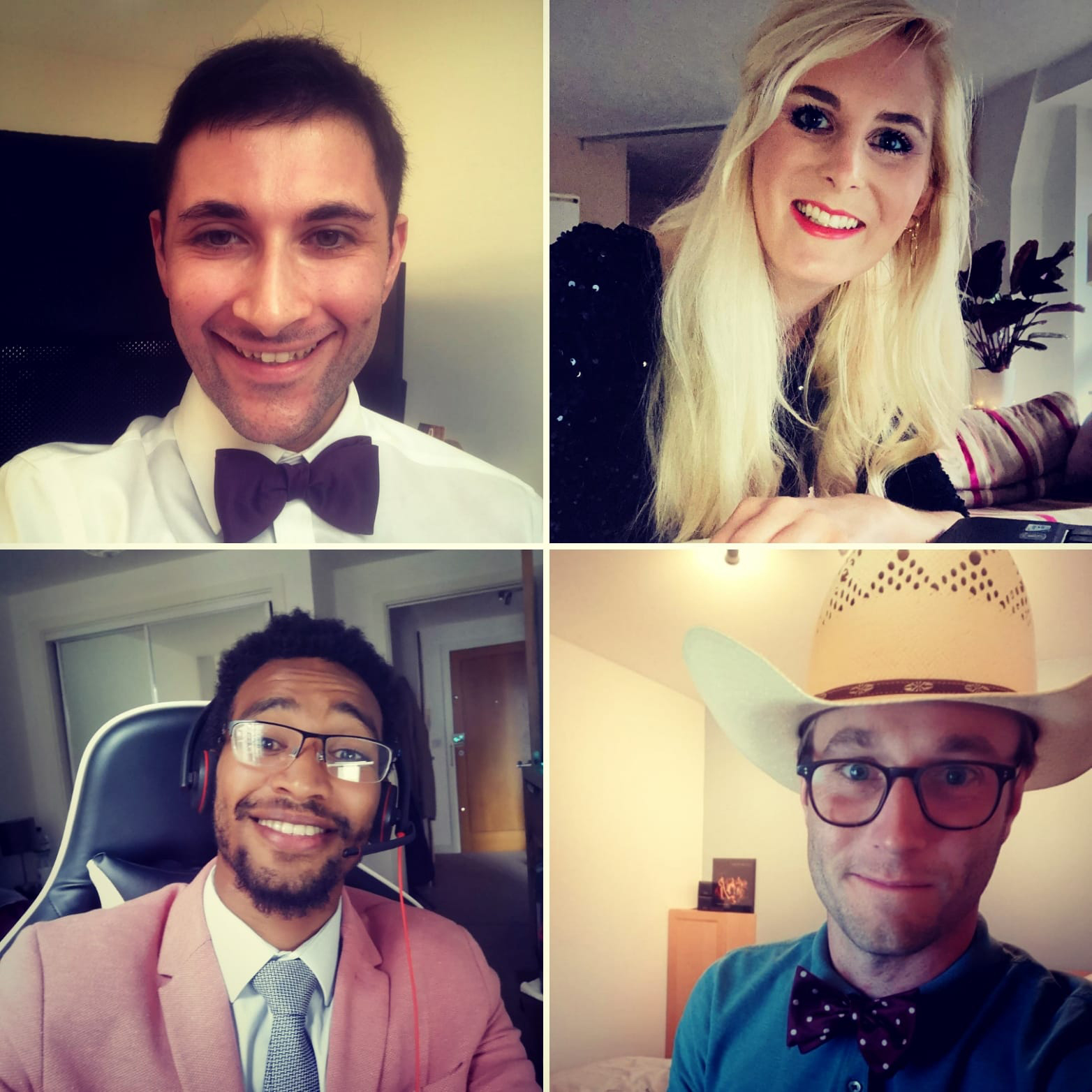 Online fun
In between all that learning, YRP kept its feet on the ground with some online fun. YRP London and South East established a virtual pub, meeting every couple of weeks for a drink and a chinwag, while the YRP national committee dressed in their 'finest' to fundraise for Railway Children.
And we have to mention the quiz night in June, in partnership with the Railway Benefit Fund, hosted by Pete Waterman – despite a few technical glitches, the evening was a great laugh and a great success!
Spotlight success
In parallel, some of our YRP members took centre stage through a series of 'working from home' profiles, focusing on how they adapted to the change in working environment brought about by Covid-19. Big thanks go to Ben Ellis, James Hill, Simon Kendler, Martyn Ross, George Chilcott, Caitlin Braysford, Nilhil Pillai and Jacob Cooper for contributing, and Fi Westcough and Rachael Thompson for coordinating!
Our spotlight is now shifting to rail careers. This series will launch online in early September and will feature career insights from across the YRP community. To contribute a profile, please email [email protected].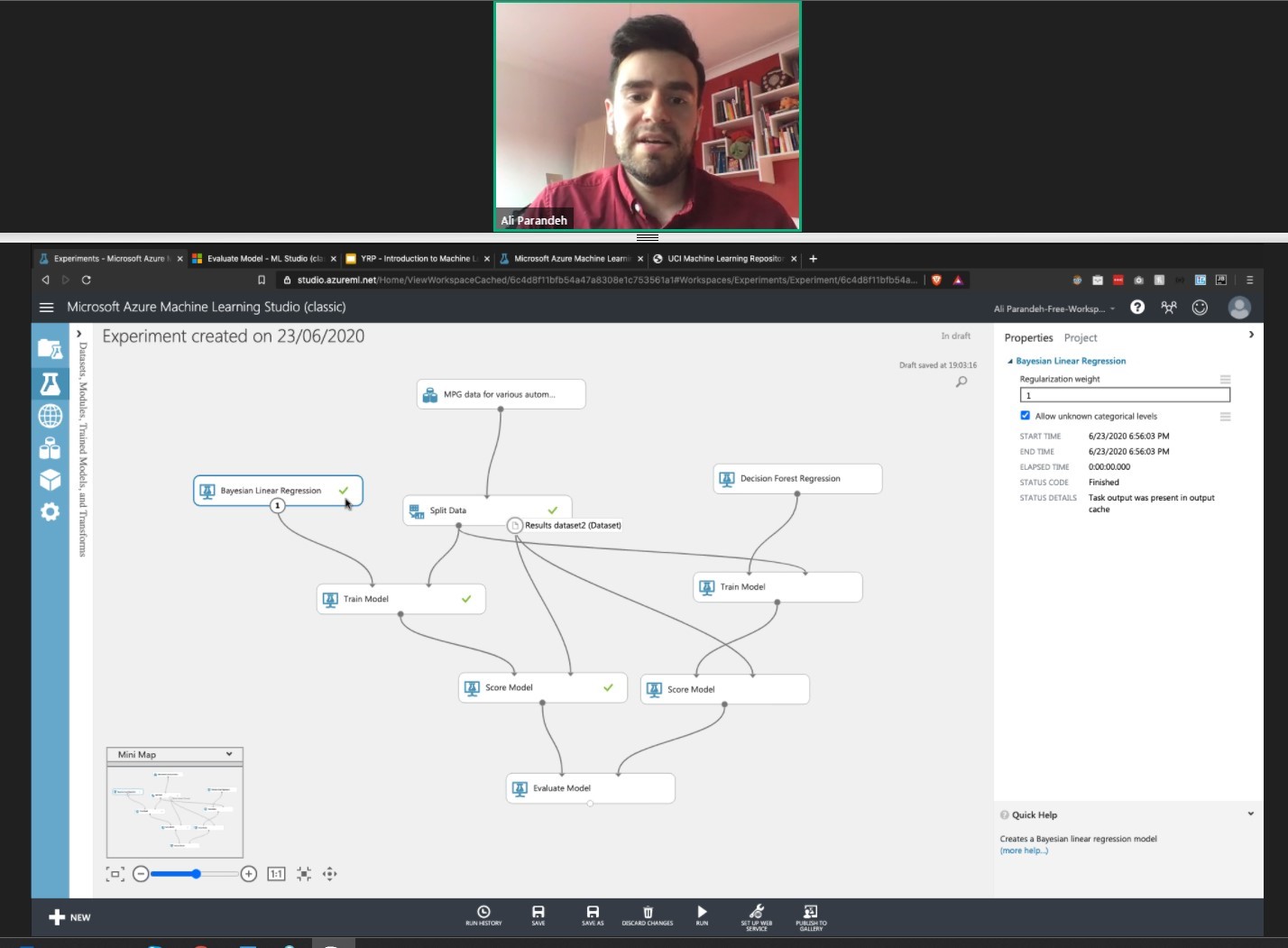 Looking forward
Last issue, we enthused about the launch of our new website (www.youngrailpro.com) and, if you haven't done so already, we encourage you to sign-up as a YRP member – there's no age limit and it's totally free. You'll benefit from YRP event updates straight to your inbox and access to our virtual community groups and discussions boards. It's a great way to connect to peers, develop your knowledge and make new friends.
Over the coming months, YRP will continue to nurture its webinar programme, so keep an eye on our website and LinkedIn. Rather excitingly, you can check out the 'Webinar' page on our website to tune into recordings of most of our past online events.
Rail Week 2020 (5-11 October) is also fast approaching. This year we're encouraging contributors and collaborators to bring the railway to kitchens and living rooms across the UK by placing fresh emphasis on technology – virtual depot tours, webinars, downloadable activities, engineering insights, Q&As, games, educational videos… Think virtual. Think online. Think live or pre-recorded. Think outside the box.
We're busy collating the programme and need your help. If you or your organisation already has plans and need to publicise your events on the Rail Week website, or want to get involved, contact our YRP Rail Week lead, Isabella Lawson, by emailing [email protected]. More info next time!