Colin Wheeler
Our early railways were dominated by manual work undertaken by a committed workforce who took pride in what they did. On my wall I have pictures showing track workers who had won prizes for their work which was judged by competition to be "a best kept length of track". When required to work on tracks open to traffic, warnings were given using flags, horns, and whistles, and the gangs relied upon the expertise and commitment of those looking out for approaching trains.
The team spirit was soon enhanced by "improvement classes" providing training in a variety of track skills and the Permanent Way Institution was founded by William Meredith Lewis in 1884 to increase the understanding and skills of trackmen. It was aimed at wages-grade individuals to enhance their track skills, including those of chargehands and permanent way inspectors. By the time I came to work on the railway, staff were further encouraged to work together by membership of British Railways Staff Association clubs. These were a social focus for a wide range of railway workers and their families which helped generate a strong work commitment.
Engineers, and especially railway engineers, enjoy developing more and more sophisticated and clever equipment to keep those working on railway infrastructure safe and effectively outlaw the use of flags, horns, and whistles. More difficult, but I suggest essential to build on the excellent work of Network Rail's Safety Taskforce, what is now needed is a high profile and continuing campaign to generate commitment and enthusiasm to work safely. I have reservations about the drafting and use of Safe System of Work plans. Are they all accepted by those who do the work? A hearts and minds safety campaign, endorsed and supported at track level, is needed but should be planned in detail after listening carefully to those who do the work.
Near miss at Penkridge
The Rail Accident Investigation Branch (RAIB) is still investigating a near miss with trackworkers at Penkridge which happened on 11 July 2022. At 00:06, two trackworkers moved clear of an approaching freight train travelling at 61mph with less than a second to spare! Another train was passing on the adjacent line as the freight train approached. The trackworkers were investigating an ongoing fault with the Overhead Line Equipment (OLE) which had prevented trains with electric traction from using the line, resulting in train service disruption.
Loughborough Central Station accident
At 11:49 on 14 January this year, a passenger on the heritage Great Central Railway was alighting at Loughborough Central Station but lost their footing and sustained a serious injury. The train had stopped with the leading door of the leading coach adjacent to the platform ramp which "is not intended for public use." RAIB is investigating and will consider methods of working at the station, management of the risks to passengers boarding and alighting, as well as management factors.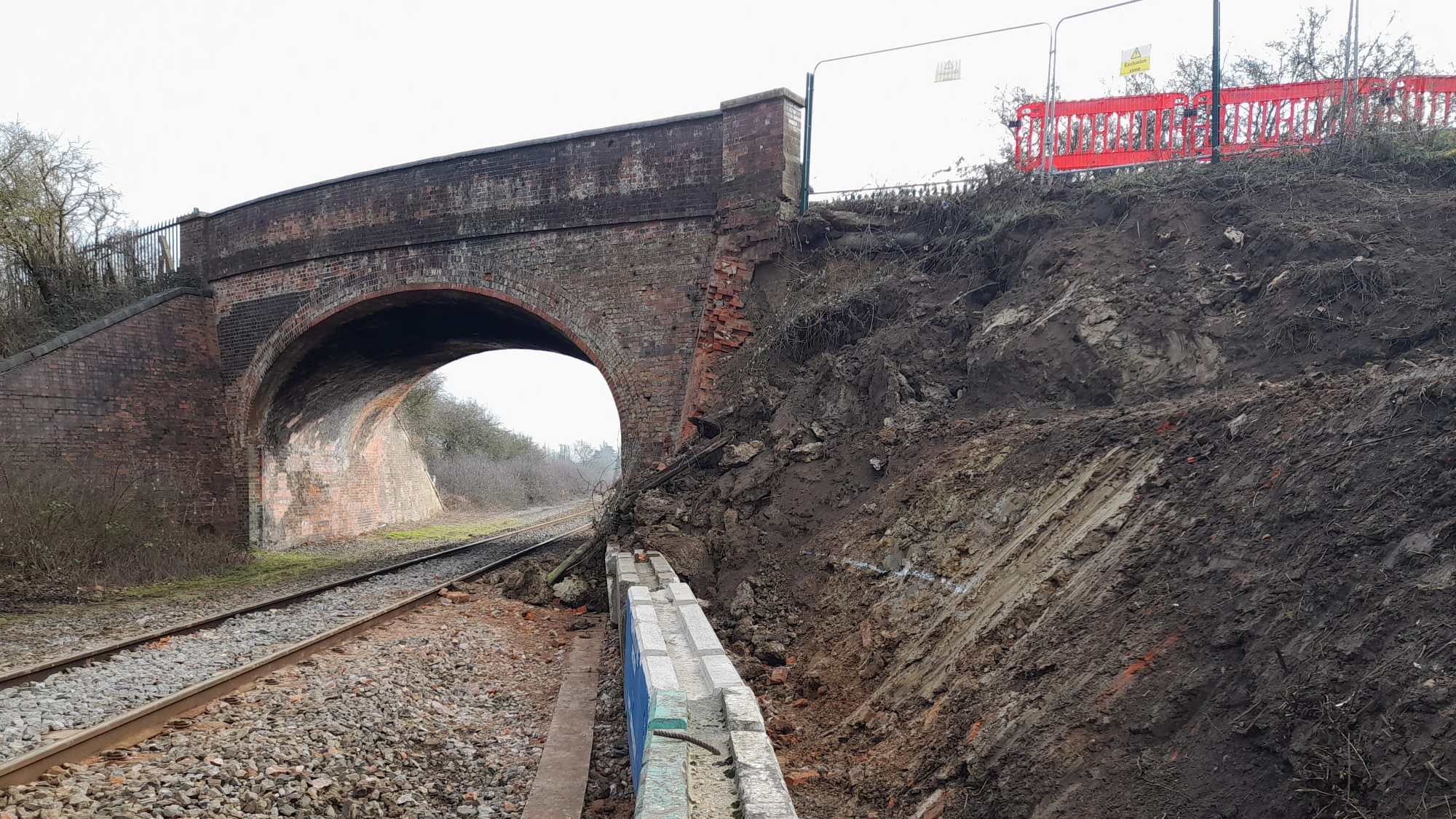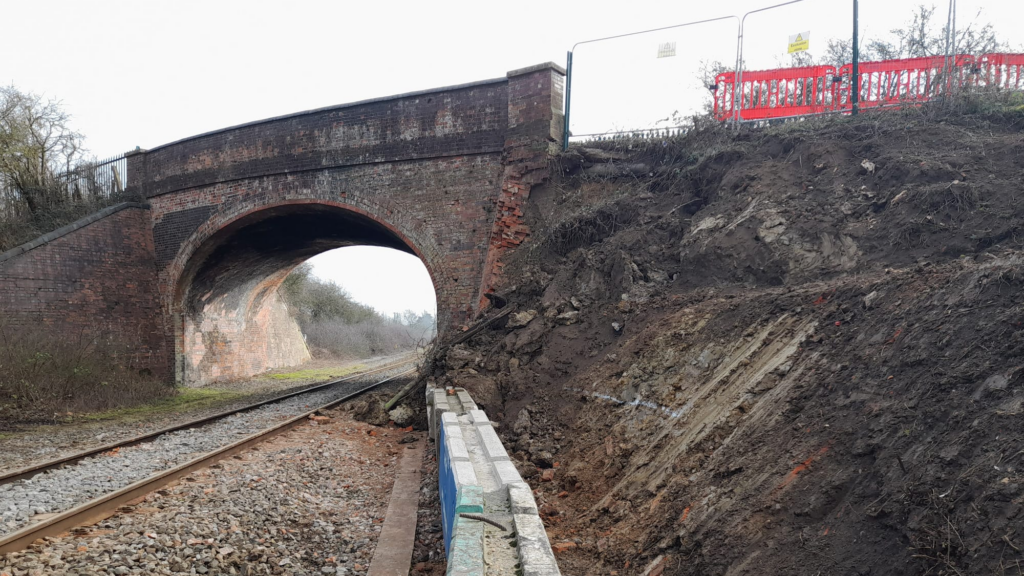 Failed wing wall collapsed onto tracks
At 18:40 on Friday 10 February, the 17:34 Paddington to Hereford passenger service, operated by the Great Western Railway, ran into brick rubble on the single line section at Yarnton between Oxford and Charlbury. Brickwork had fallen from a "failed wingwall" of a bridge carrying a local road over the railway. Although travelling at 55mph the train was not derailed but it suffered damage. The track was briefly reopened on Sunday 12 February but closed again a few hours later. It then stayed closed for a further nine days "whilst an adjacent embankment was stabilised". RAIB's investigation will include the history of the structure, structural inspections, and a report of cracking in the road in the adjacent embankment. Presumably, the most recent detailed and superficial structural examination reports had been signed off by a professionally-qualified structural engineer whose responsibilities are detailed in his or her job description…
Teignmouth Boatyard near miss
At 01:23 on the morning of 14 February, the driver of a passenger train travelling at 55mph reported a near miss with a track worker on the Down Main line near Teignmouth Boatyard near Dawlish access point. At 01:18 the Controller of Site Safety (COSS) went to place worksite marker boards, having been asked to do so by the Engineering Supervisor. The COSS accessed the track, walked to the required position, and placed the board on the Down Line. The worker had placed the worksite marker board on the line which was still open to traffic. Both the Engineering Supervisor and COSS, hearing a train coming, moved to the open Up Line as the train hit the marker board. Both the trackworker and the train driver were shaken by the incident. Following a preliminary investigation, RAIB has decided to publish a Safety Digest.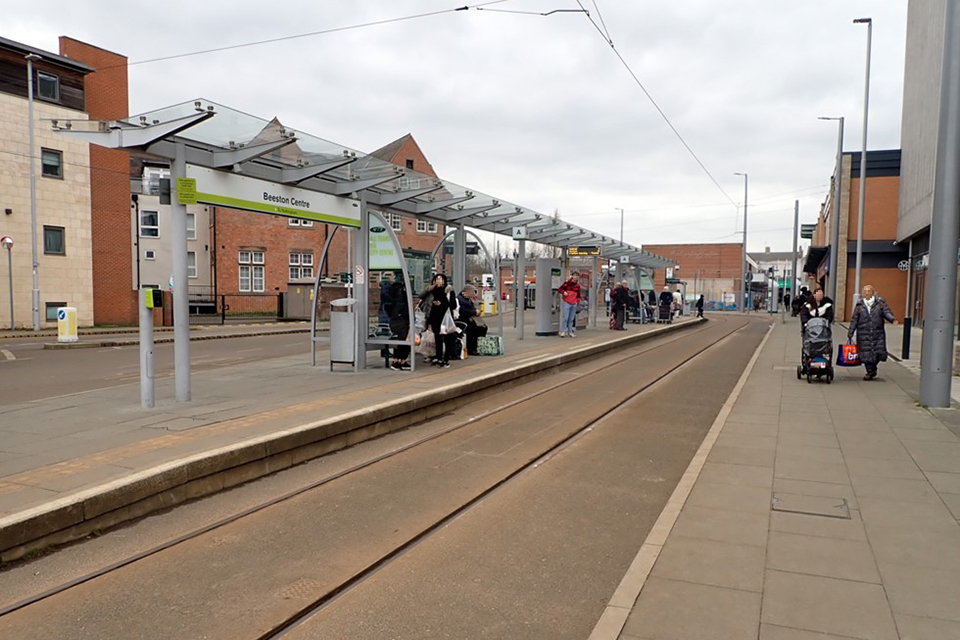 Tram passenger dragged at Beeston Nottingham
On 22 February a tram passenger was dragged for several metres before falling onto the platform at Beeston Centre tram stop. It happened after the passenger had "placed a walking stick in the tram's closing doors." The passenger sustained both facial and chest injuries. After its preliminary investigation the RAIB has decided to issue a Safety Digest.
Oil carrying freight vehicle broke two rails
Also on 22 February, RAIB released its report 03/2023 about the track damage that occurred on 6 March 2021 between Pencoed and Llanharan in South Wales. One wheelset of a wagon travelling from Robeston Oil Terminal at Milford Haven to Teale was near Reading when a wheel stopped rotating on wet and rusty rails that had not been used for several months. Consequently, two rails within a mile of each other were fractured. The report says that Network Rail was focussed on Autumn leaf fall and had failed to act on advice from a cross-industry working group on the precautions to be taken when re-opening an unused line. The report does not specify the individual who was responsible. Surely the adequate inspection, maintenance, and timely replacement of freight wagons needs to become a top priority without further delay if our climate change objectives are to be achieved?
Track worker COSS in near miss with 125mph train
A Safety Digest was published by the RAIB on 16 March following a near miss in November 2022. At around 01:29 on 15 November, a train travelling at 125mph narrowly missed a track worker on the West Coast Main Line near Bulkington, some four miles south of Nuneaton. The worker was the COSS for a team of agency track staff working in the four-foot of a line under possession. The COSS had stepped from a position of safety into the six-foot between the open and closed running lines. The adjacent line was open to traffic at line speed. The COSS returned to the position of safety with just two seconds to spare.
According to the Safety Digest, the COSS had given a site briefing which identified the six-foot rail of the Up Trent Valley line as the "safe area boundary". The team was instructed to remain on the eastern side of this and a Site Warden was appointed. By the time the train approached at 01:29, the team had split into two distinct groups working some 55 or 60 metres apart. Darkness and the track curve meant that the Site Warden could no longer monitor the position of the workers. Consequently, the COSS received no warning from the Site Warden to step back.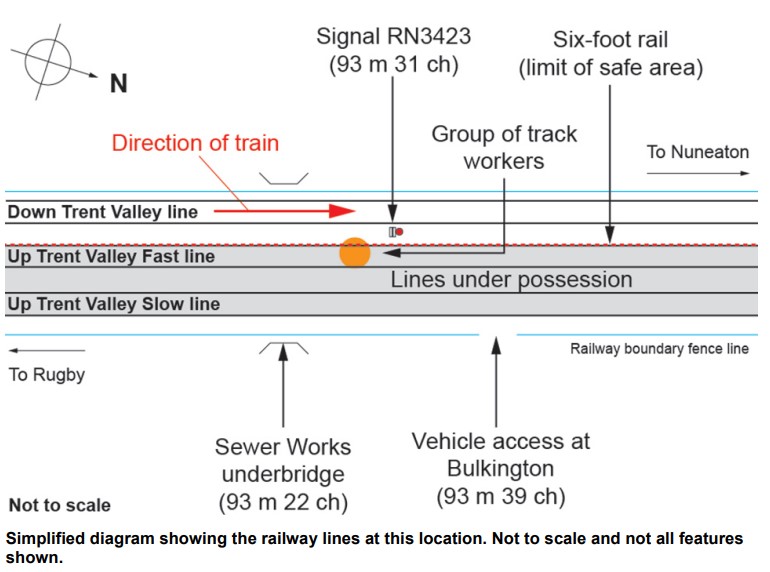 Reminder of Live Exposed Equipment
On 1 March, a Network Rail Safety Central Safety Bulletin was issued by its Technical Head of Contact Systems AC/DC, titled "Reminder of Live Exposed Equipment". During a planned isolation on 17 April 2022, the Nominated Person, discovered that the RoLE equipment used within the isolation had been removed from its position and was in the cess. If RoLE is removed without authorisation this will "contradict the brief and Overhead Line Permit (Form C)". The Nominated Person immediately reinstated the RoLE and reported a Close Call. The Bulletin contains no details of why or by whom the RoLE was removed, or of subsequent managerial action to prevent a recurrence.
'Test before Touch for OLE' issued by Safety Central 22-03
This was posted on 3 January and is described as follows:
"Following recent electrical safety incidents where colleagues sustained life changing injuries due to inadvertent contact with Live Overhead Line (OLE), a new standard has been published to formalise and improve the "Test before Touch" process for the OLE."
It adds under a heading of "please remember":
"Any person within the working party can request for the OLE to be tested before they touch (defined as planning to come within 600mm of a conductor) at any time while the Overhead Line Permit is in place."
Maintenance of Rail Head Treatment Train without protection
On 1 March. a Safety Bulletin was issued titled 'Depot Protection'. An external safety audit of Rail Treatment Train (RHTT) maintenance was carried out on 12 October last year. It found that at Slateford Depot in Edinburgh, train maintenance staff were undertaking maintenance work with no protection arrangements in place. The work was stopped "until protection had been applied in accordance with the contracted maintainers Safe System of Work". On the same day a similar issue was discovered at Coleham Depot in Shrewsbury during a routine inspection.
At Coleham, the RHTT was also being maintained with inadequate protection by contractors from a different company. Again, the work was stopped until the agreed Safe System of Work protection was in place. Presumably, Network Rail management has subsequently taken steps which should prevent any recurrence?
Night working
On a very personal note, I have strong opinions against work being done at night with an adjacent track just six-foot away, still open for traffic. I recall the night, decades ago, when the organisation of which I was part lost a relaying supervisor who was commendably safety conscious but lost concentration. He was struck by a train passing on the adjacent line and lost his life.
Image credit: RAIB / istockphoto.com