Colin Wheeler
People make mistakes all the time but fortunately most are easily corrected. Within any organisational group, mutual respect, interaction, and understanding of each other's strengths and weaknesses contribute to safer and more productive working.
Bulletins and reports emphasise the details of work planning and site modified working practices that have contributed to or even resulted in accidents and injury. Building and constantly working to improve team motivation needs to be led by individuals that are respected by those doing the work. This is not easy to achieve on today's railways. Safety professionals who may misinterpret accident statistics can even contribute to the problems. Fitness for work and the will to do a good job safely are all important.
Surbiton track worker fatality report published
RAIB's report 05/2022 was recently published and concerns the accident that happened at 11:35 on the morning of 9 February 2021. Thirty-year-old Tyler Byrne was the controller of site safety (COSS) leading a track inspection with three others. He was walking in a crossover near Surbiton Station in South West London when he was struck and fatally injured by a passenger train travelling at 76mph.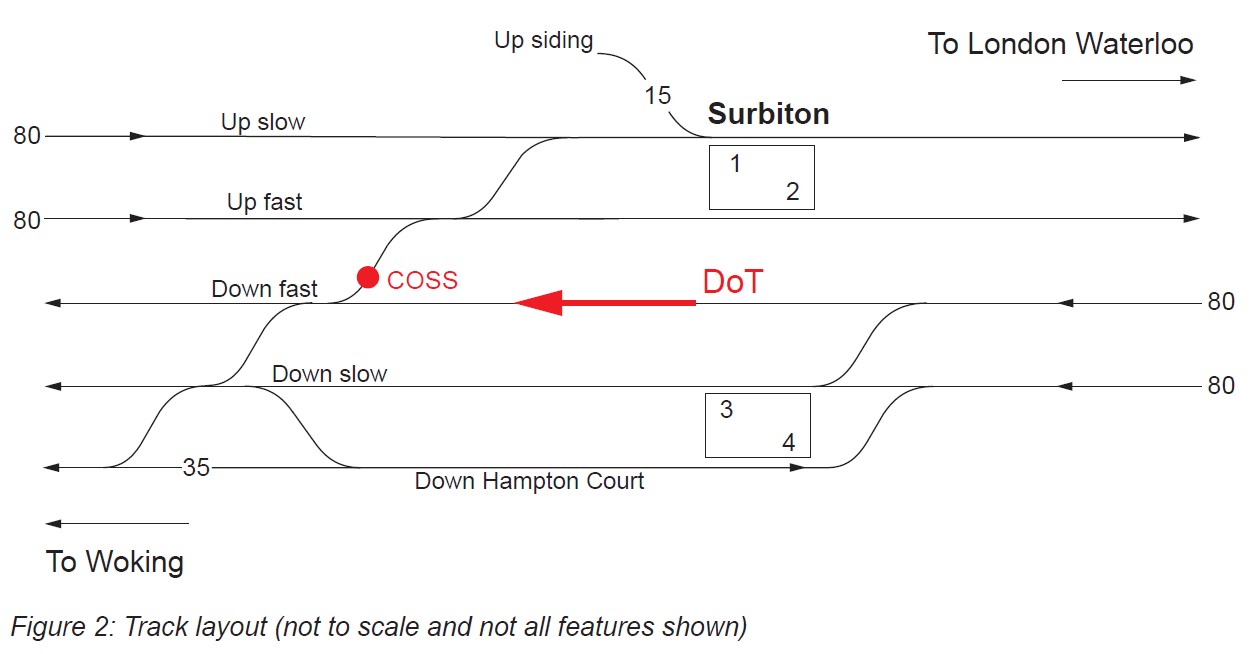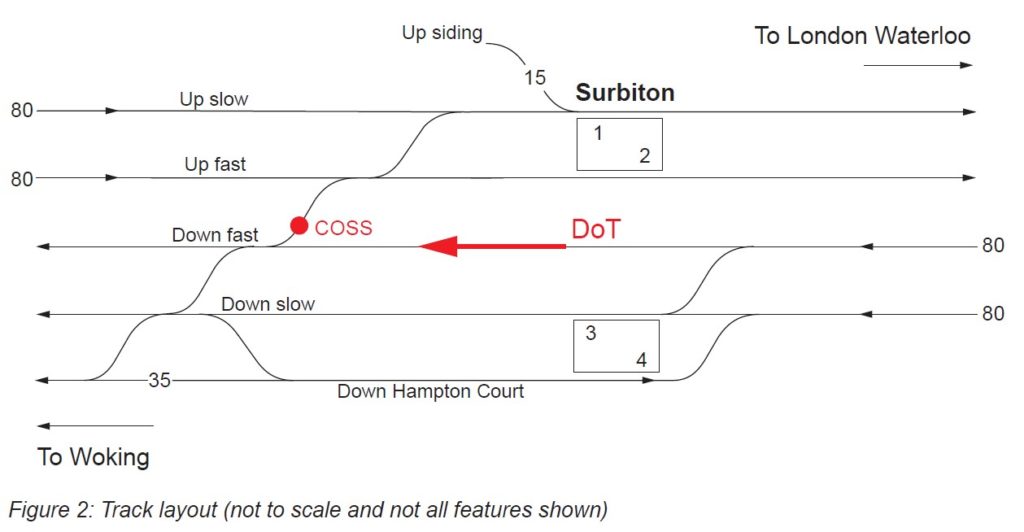 The report summary says that he was unaware of his position relative to the train, either by being distracted, teaching his assistant, or undertaking an actual inspection. The accident happened 365 metres on the country side of Surbiton Station where there are five lines interconnected by crossovers. The lines are busy with frequent trains both suburban and long distance and many different stopping patterns.
The regular inspection was planned using unassisted lookouts, the least safe system of working. This had not been challenged before the accident. Network Rail is eliminating unassisted lookout working but this had not resulted in changes where the COSS worked. Clause 46 of the RAIB report says it all: "Wessex Route began its trackworker programme in April 2020 after it had recruited the staff necessary to oversee its delivery and set a target date of April 2022 to eliminate unassisted lookout working (ULW). Prior to 2020 there were no specific initiatives on the Wessex Route focussed on reducing ULW."
The COSS was also the Person in Charge (PIC), familiar with the location and the work. Based in Woking, he was assisted by a patroller's assistant and a distant, as well as site lookout. The inspections were carried out every Tuesday. The day of the incident was the COSS's first day back after three weeks sickness absence. Having completed an inspection at Berrylands, the team had returned to Surbiton. They inspected the crossover at the country end of Surbiton Station and then walked to the Up Fast/Down Fast crossover. The train driver was 416 metres away (12 seconds running time) when he saw the group and sounded a warning horn whilst travelling at 78mph. The COSS walked in the crossover between the Up and Down Fast lines. CCTV from the driver's cab shows the group walking along the track and not looking back towards the approaching train.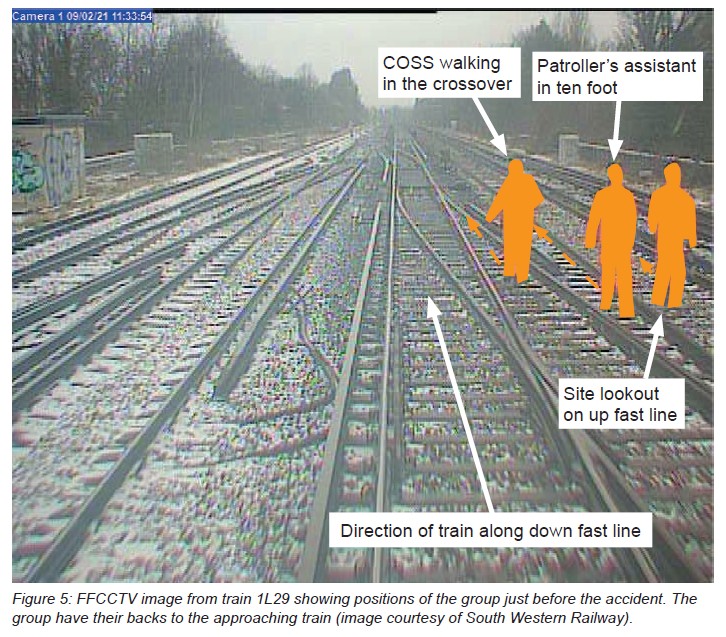 Improvement notices issued
On 8 July 2019, the Office of Rail and Road (ORR) issued two improvement notices on Network Rail having "concluded that Network Rail had reached the limits of protection that could be provided by improving safe systems of work" and that it needed to "significantly reduce the amount of working with unassisted lookouts". Also, Network Rail was "to identify track access under existing possessions and line blockages as well as using technological means of providing warning when blockages are not possible".
This report is especially detailed and thorough, and so it should be. RAIB's recommendations relate first to work groups on or near the line within designated safe limits when some or all lines remain open for traffic; and second to "understanding the nature and reasons behind rule and behaviour non compliances observed by RAIB during its investigation". The Rail Delivery Group is instructed to "work to improve the judgement of train drivers on whether track workers are in a dangerous position and to reinforce the use of the train horn to deliver urgent warnings."
Drugs and alcohol test failures
Following the Surbiton accident, neither the patrol assistant, site lookout, or train driver were tested for drugs or alcohol.
On 5 July 2022, Network Rail's Health and Wellbeing team issued bulletin NRB22-05 on Safety Central which gave information of concern about a significant rise in drugs and alcohol testing failures. Over three periods (presumably each of four weeks) testing had found sixteen individuals under the influence of drugs or alcohol who should not have been at work.
Network Rail's zero tolerance policy leads to a cancellation of the individual's Sentinel cards and a five-year ban from working. The number of test failures (16) is described as being "far worse than last year". Seven were due to alcohol, four for cannabis, and five for cocaine. This raises questions. Is enough testing being done and should more unannounced random checking nationwide be undertaken?
Footpath crossing fatality
This incident occurred at 14:51 on 21 April this year on the Lady Howard crossing at Ashtead in Surrey. The crossing is used for access to Ashtead Common and has gates and signage instructing users to "stop, look and listen" before crossing. The train involved was travelling at 62mph at the time of the accident. RAIB is investigating.
Level crossing near misses
On 23 May at 08:22, the 07:02 Great Western service from Gatwick Airport to Reading approached Farnborough North footpath crossing at 70mph. The driver saw a large number of people using the crossing as the train approached, sounded his horn and made an emergency brake application. The crossing became clear of users just five seconds before he reached it. RAIB is investigating. The train would normally have stopped at Farnborough North, but due to earlier disruption had been made a non-stopping service. Consequently, its arrival was not indicated on the station platform information boards.
Near miss at Sileby Junction
This occurred between Leicester and Loughborough on 5 May 2021, but the report 06/2022 was published by RAIB on 11 July this year. The trains involved were an empty passenger train and a rail grinding/reprofiling train travelling on the same line but in the opposite direction! The rail grinding/reprofiling train passed a signal at danger (SPAD) and reached Sileby Junction a mere 10 seconds after the passenger train had cleared the junction whilst travelling in the opposite direction. There were no injuries or damage but the incident resulted in trains being delayed. The cause was the driver not controlling the train speed, causing the train to pass the signal at red. The emergency braking system worked but did not stop the train before it reached the point where it could collide with another train.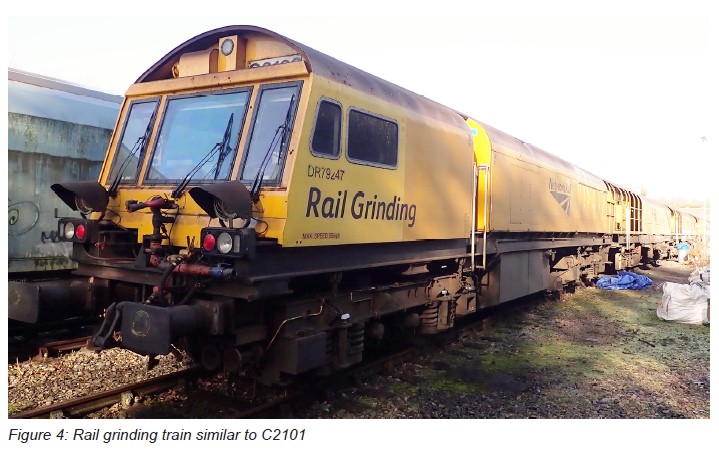 The RAIB report says that "a probable underlying factor was associated with the fatigue risk management processes used by the train operator". It adds that, "there was no system wide risk assessment to control overruns arising from the operation of non-standard vehicles on the national network". Also, the train operator did not obtain safety critical information about the train driver before he joined the company. Further observations relate to "processes for managing the operational and technical responses to incidents".
Freight trains collide at Doncaster
On 5 July 2022, a GB Railfreight train travelling at 28mph passed signal D197 at danger showing a red aspect and then crashed into the back of a stationary freight train that was approximately 230 metres beyond the red signal. Significant damage was caused to both trains' freight vehicles and the infrastructure. RAIB is investigating. A number of wagons were derailed on both trains. The collision at 06:23, took place to the south of Doncaster between Loversall Carr and Flyover West Junction on the Down Slow/Up West Slow line. 4E11 was travelling between Felixstowe and Masborough and consisted of 35 container wagons being hauled by a locomotive.
Shudehill tram stop, Manchester
At 11:16 on 27 May, a woman suffered face and hand injuries after being trapped in and dragged by the closing doors of a departing tram. Her bag had become trapped, and she was dragged for 13 metres before falling onto the tram stop platform. Following a preliminary examination RAIB have decided to publish a safety digest.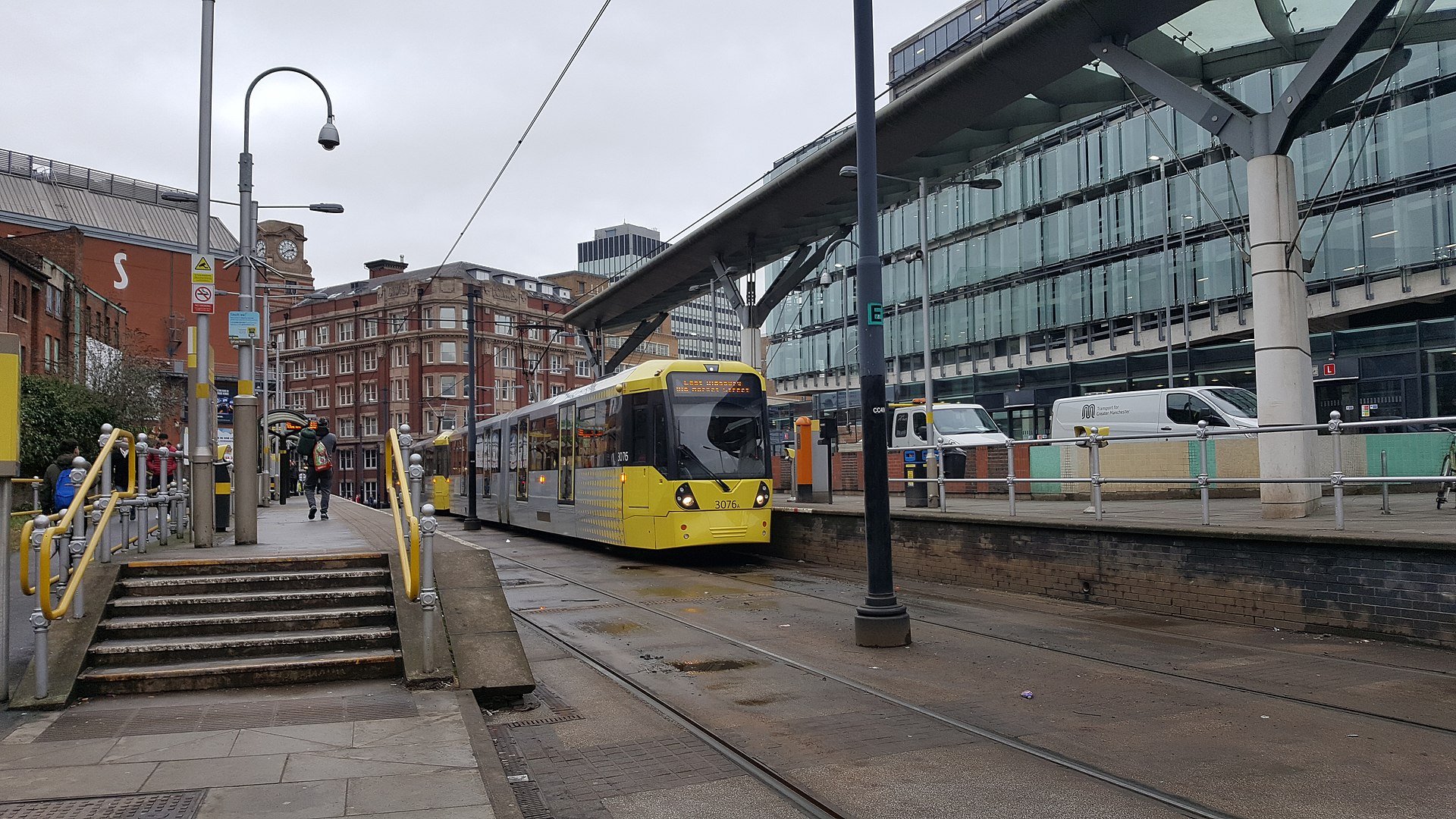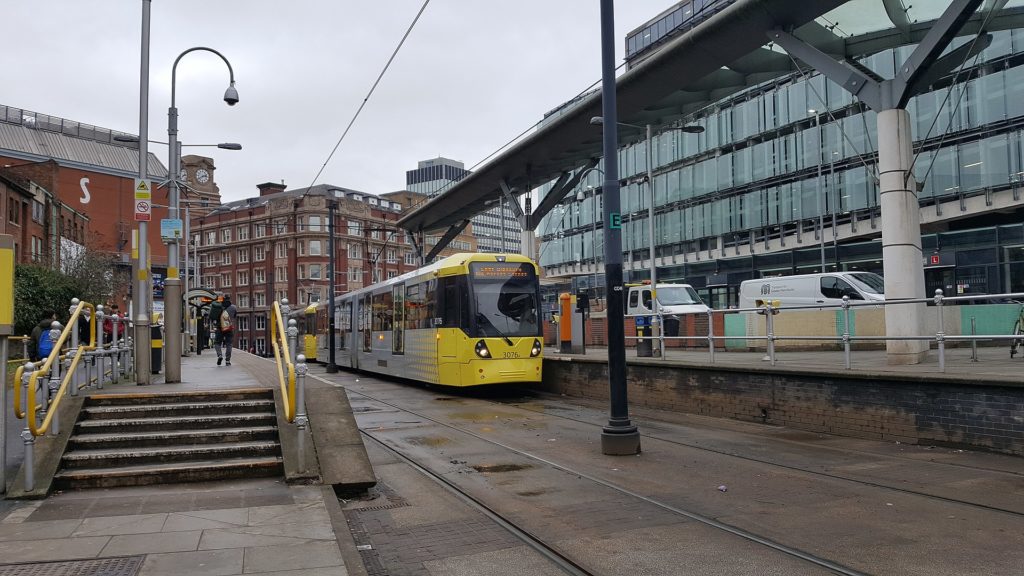 Three more trapped and dragged
RAIB are currently investigating these incidents which all occurred in the London area. Around 09:00-11:00 on 23 June2022, at Seven Sisters Station, an intended traveller placed a hand between the closing train doors and was then dragged along as the train moved off. Fortunately, it stopped before any injury was caused.
Just four days later at 06:26 on 27 July at Wembley Central Station, a traveller pushed a walking pole between the closing doors of a departing train which was stopped after travelling a short distance. The third incident was at Crouch Hill at 13:46 on 29 June. On that occasion the intended traveller put an umbrella between the closing doors but fortunately, yet again, the train came to a stand after moving a short distance. RAIB has advised that it will issue a Safety Digest covering all three of these incidents.
It could be claimed that each report of a near miss or accident written about this month has the same underlying cause; the fallibility of individuals, inadequate commitment to always being aware of safety, and break downs in communication.
Image credit: RAIB / istockphoto.com