Colin Wheeler
Rail Media's annual Railway Safety Summit Conference was held on Tuesday 14 March at Loughborough University's Holywell Park Conference Centre. With 136 people in attendance, the conference hall was packed.
Returning as a live event for the first time since 2019, this year's Safety Summit was a real return to form. I was delighted to act as host and guide both delegates and speakers through the day's proceedings.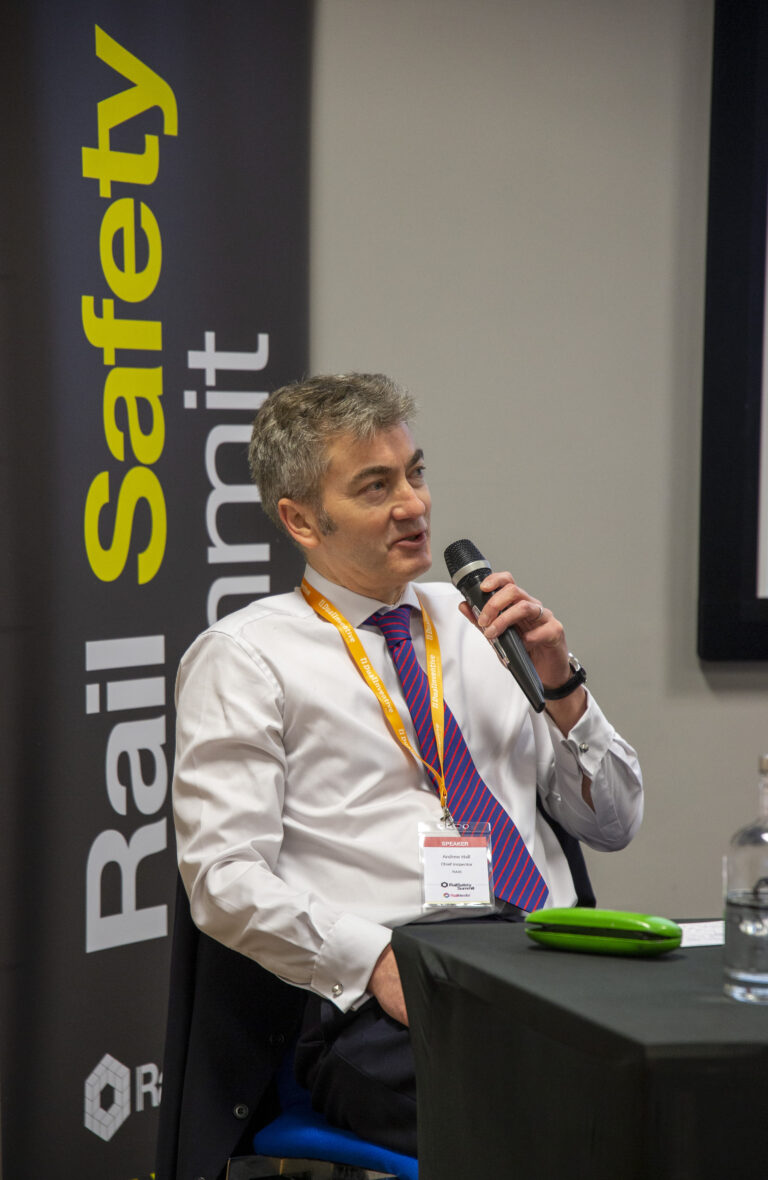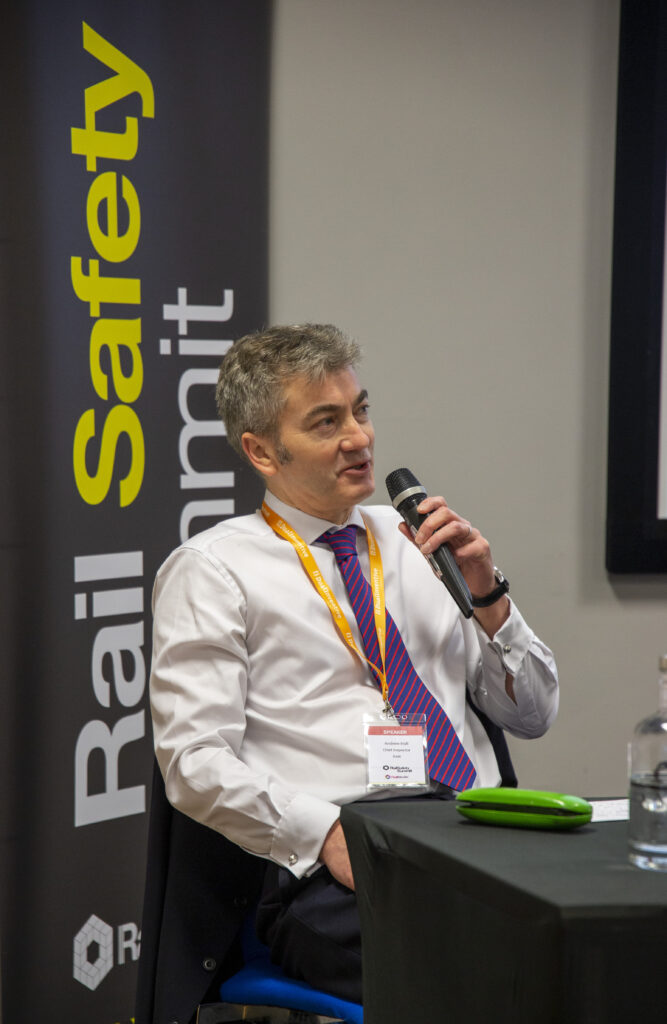 Beware: rarely is not quite never!
The day's presentations were kicked off by Andrew Hall, chief inspector of the Rail Accident Investigation Branch (RAIB). His lecture, which came under the challenging title 'Rarely is Not Quite Never', began by reiterating that our railway is safe, with serious accidents becoming uncommon as a result of the huge efforts made over the last 25 years. However, he queried the dangers hidden in this positive story, stating that the rarity of these events can lead people to believe that accidents do not happen in their world.
Andrew spoke of the need to learn from accidents and use them for statistical studies leading to future investment. He warned of the pitfalls of historic norms, and the everyday errors made by "good people". He showed graphic pictures of freight train derailments at Duddeston 2007 and Camden 2013, and commented that though our railways are statistically safe, recent accidents including Carmont, Margam, Llangennech, and Salisbury, could have been much worse.
The Sustainable Workforce
John Jepson, OSHE director at McGinley told us that he sees his role as supporting his firms' workers, for which he draws on his 30 years of experience in rail, civil engineering, and construction. He said the financial crisis has affected workers' occupational health as, on average, they were £5,000 per annum worse off than before the pandemic; as well as being affected by inflation topping over 10% in January this year. He also reminded us of the increases in fuel and food prices. John added that many rail workers were unaware of the availability of financial support.
Polls indicate that 54% of construction workers would go to work whilst suffering with Covid-19 due to money worries and 44% admit to a degree of mental stress due to financial concerns. To illustrate the McGinley approach, he used a building block diagram to illustrate how McGinley tries to support its workers.
Safety on the Underground: evolution and revolution
Marian Kelly, head of Safety, Health and the Environment for London Underground gave us a history of safety on the London Underground and a look ahead to its approach in the future. Delegates were reminded that the London Underground, at 160 years, is the oldest metro system in the world and is used by between four and five million people every day. Marian said that the organisation's present approach to safety is influenced by the Moorgate crash of 1975, Kings Cross fire of 1987, Clapham Junction rail crash of 1988, and the Sandilands derailment of 2016. She also spoke of the London Mayor's Transport Strategy and the ambition that: "No one will be killed or seriously injured on the Transport for London network by 2041." This ambitious aim will, said Marian, be achieved with an increased reliance on automation, culture, and behavioural improvement, and more effective learning.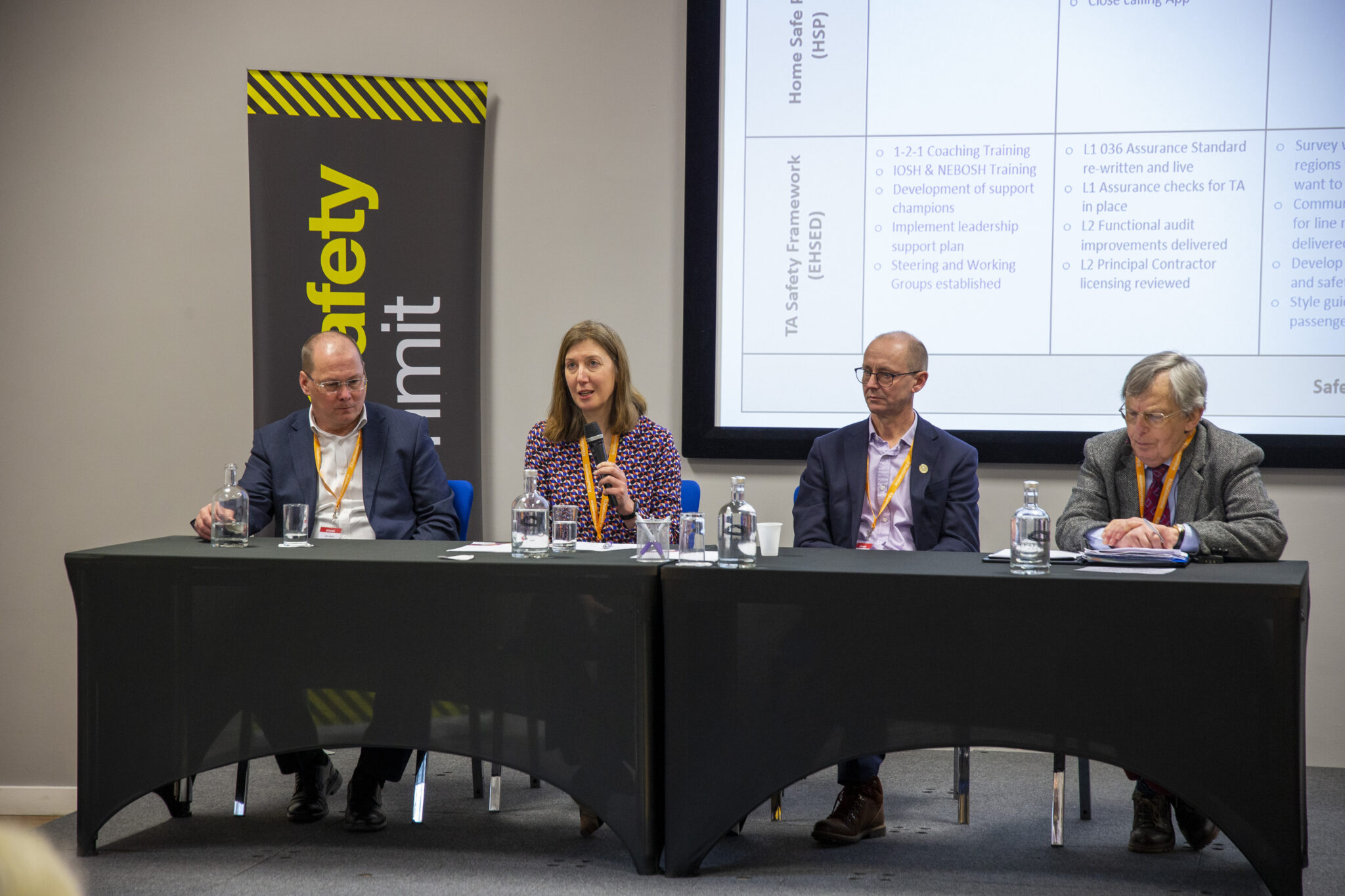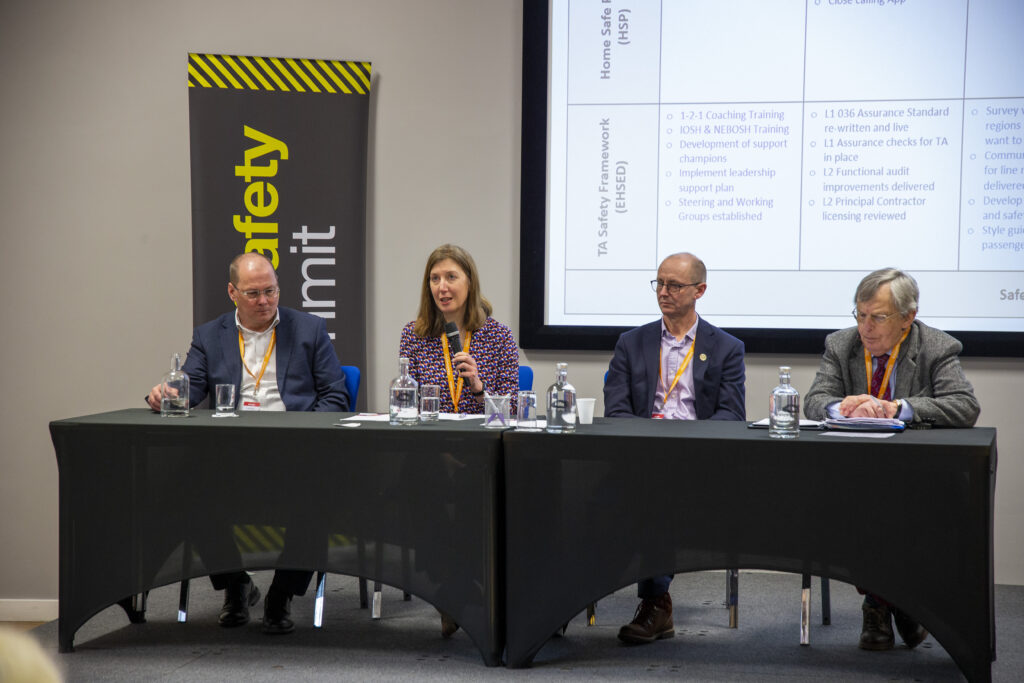 Network Rail's Safety Framework
Rupert Lown, chief Health, Safety and Wellbeing officer at Network Rail, addressed attendees and began by showing a chart of Network Rail's past safety performance. It showed three categories of injury and fatalities using weighted averages between 2018 and 2022. He also used a chart of train accidents and high-risk potential incidents between 2019 and 2022.
Network Rail's safety framework has six defined elements: safety culture, first line assurance, leadership capability, communication, life-saving rules, and separating people from trains. Six areas have been detailed for safety improvements and were underpinned by Network Rail's Safety Taskforce. These were leadership, culture, assurance, communications, life saving rules, people, trains and machinery, and both the public and passengers.
Following Rupert's presentation, the event broke for lunch, giving delegates the opportunity to catch-up with friends and colleagues, and to wander the numerous exhibition stands which showcased new technologies and services.
Electrical Isolation: How Difficult Can It Be?
Peter Dearman, formerly engineering director at Atkins, sometime electrification engineer with Network Rail, and now an independent consultant, reminded delegates of the importance of the 'Test before Touch' rule that should always be followed. Speaking about electrical traction systems he stressed the critical importance of "crucial issues around human factors and culture".
He stressed the need to balance the protection provided by clear, consistent, and precise rules with measures to maximise vigilance by the individual exposed to risk. Peter reminded delegates that electrical safety affects all who work on or use the railway and emphasised that "no human sense detects electrical charge but contact with it can be catastrophic."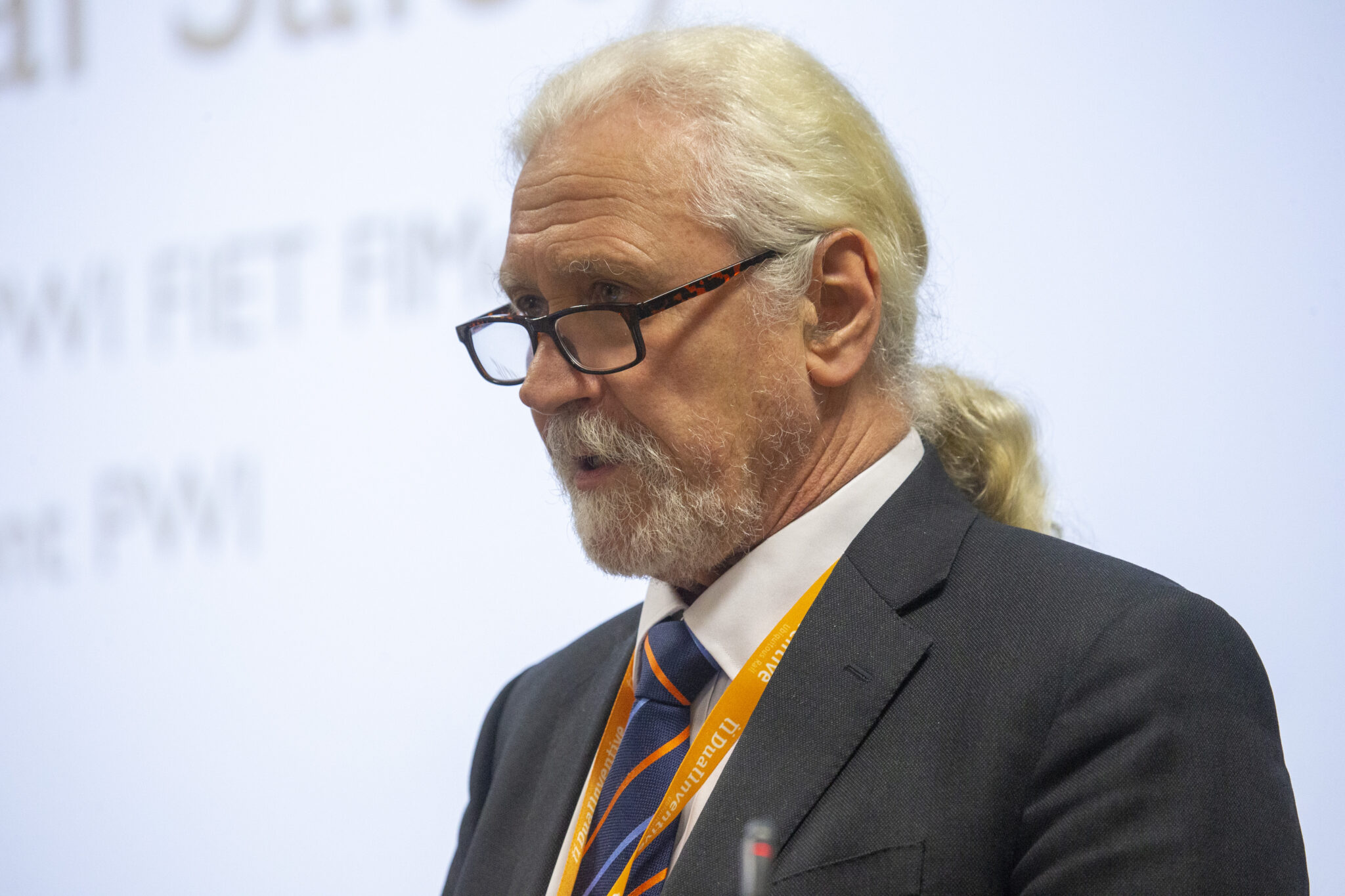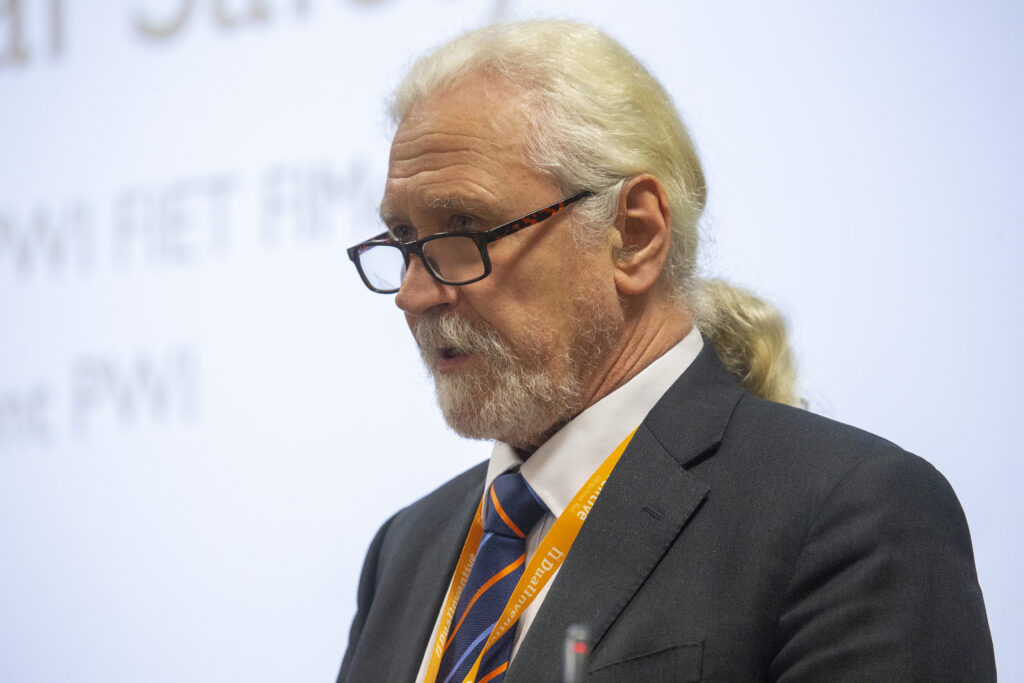 Accidents involving people other than those working on the traction system are low, and those affecting the general public generally involve reckless behaviour. Notwithstanding this, he reminded everyone that the ongoing record is of "one fatality or life changing injury every 18 months or so." He went on to explain who is most at risk and emphasised the "vulnerability of individuals due to lapses of attentiveness." He added that traction systems cannot be enclosed, and attention lapses can be fatal.
Peter went on to describe the safety processes used for high voltage working. He repeated his earlier message that always following "test before touch" was the critical mantra together with ensuring one stayed within the boundaries for safe working. In conclusion he suggested that a good way forward would be to emulate military training, including both supervision and surveillance by supervisors acting also as safety wardens.
Rail Safety: taking a transport systems perspective
Professor Sarah Sharples spoke about automation in transport and safety. In addition to her role as Chief Scientific Adviser to the Department of Transport, Sarah Sharples also works within the Faculty of Engineering at Nottingham University as the professor of Human Factors. She emphasised the importance of innovation and decarbonisation.
Putting these aims in context she said that 70% of disabled people have some mobility impairment, two million are living with loss of sight, and 12 million with hearing losses exceeding 25dB.
Prof. Sharples questioned the meaning of "safe by design", passenger service effects, responses to climate change, the potential impact on safety of using hydrogen as a fuel, and questioned the need for station ticket barriers. She concluded by stressing the importance of sharing best practice between transport modes and said that a good safety culture needs to be reinforced by asking all the right questions!
The Role of Government in Rail Safety
James Le Grice, Head of Rail Safety and Standards at the Department for Transport delivered a presentation on "the role of government in safety." Safety, he said, was driven by interlinked elements which include culture, oversight, regulation, and investment. Speaking to a slide titled "fixing gaps in the regulatory regime", he showed pictures selected from RAIB reports. He also made reference to the 2005 Railways Act, the freight growth target, the decarbonising of transport and the coming implementation of the Williams-Shapps plan for rail (Great British Railways etc.). James concluded with a reminder that there were no fatal rail accidents between 2007 and 2020 and stated that "the United Kingdom is a world leader in rail safety".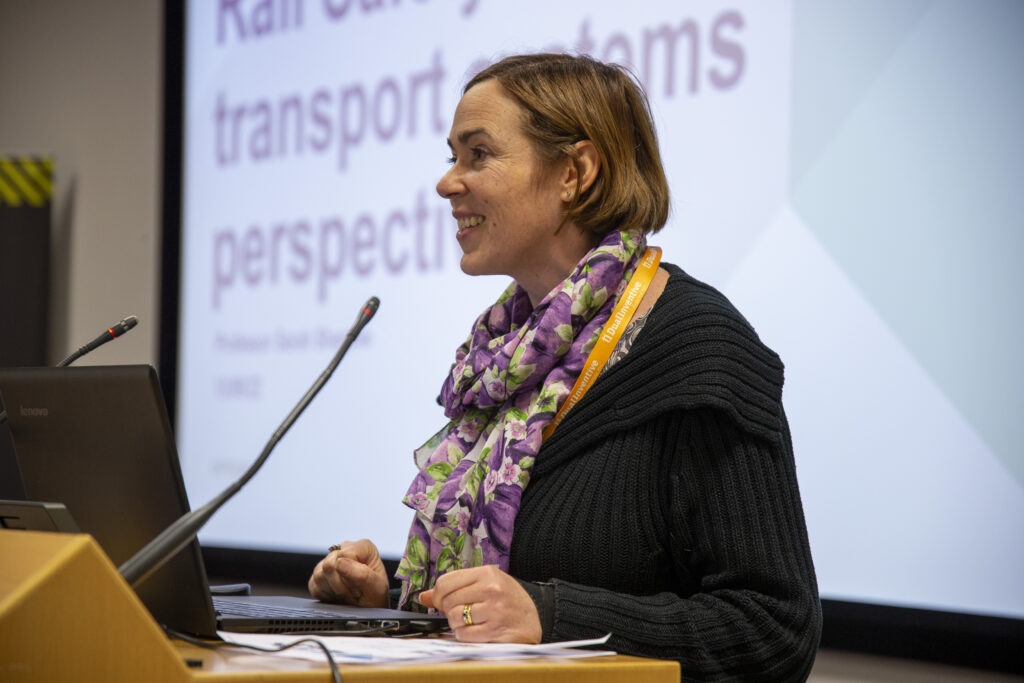 Changing times – retaining rail's risk focus
Ali Chegini Director of System Safety & Health at the Railway Safety and Standards Board (RSSB), fired the starting gun on the afternoon session. He began his presentation by reminding us all that RSSB is an "independent safety, standards and research organisation guided by facts and analysis". RSSB aims to lead on health and safety matters whilst both collaborating with the industry and sharing best practices.
He added that "boardrooms and finance directors are not viewing safety as a business risk or an opportunity to reduce costs." Identifying lessons learnt is crucial, he said, as is recognising the threat of complacency. By way of example, he referred to the Carmont accident as a reminder of the importance of monitoring extreme rainfall and improving rolling stock. He also stressed to the value of freight vehicle maintenance, citing Llangennech as an extreme example.
Safer rail maintenance
Before taking up his current role as Acting Route Director Wales and Borders for Network Rail, Nick Millington MBE led NR's Safety Task Force. His presentation brought home the human cost of rail accidents with pictures showing four trackworkers who have died after being struck by trains. During a two-and-a-half-year period, 11% of track work was planned to use lookouts and look out warning systems (LOWS). But tellingly 70% of all near misses involved lookouts/LOWS. This led to the decision to stop the use of lookouts. The challenge for the Task Force came from these facts.
A 98% reduction in lookout protected working has been achieved and working in possessions and under protected line blocks has increased from 31% to 60%. The move from unassisted lookouts and LOWS to line blocks has increased the dependency on protection technology. Track workers now work over two million more hours between near misses. The case for change was built on data as well as tragedy, and front-line teams were involved. Nick said that the biggest risk now is that we slip back when the focus moves to other things.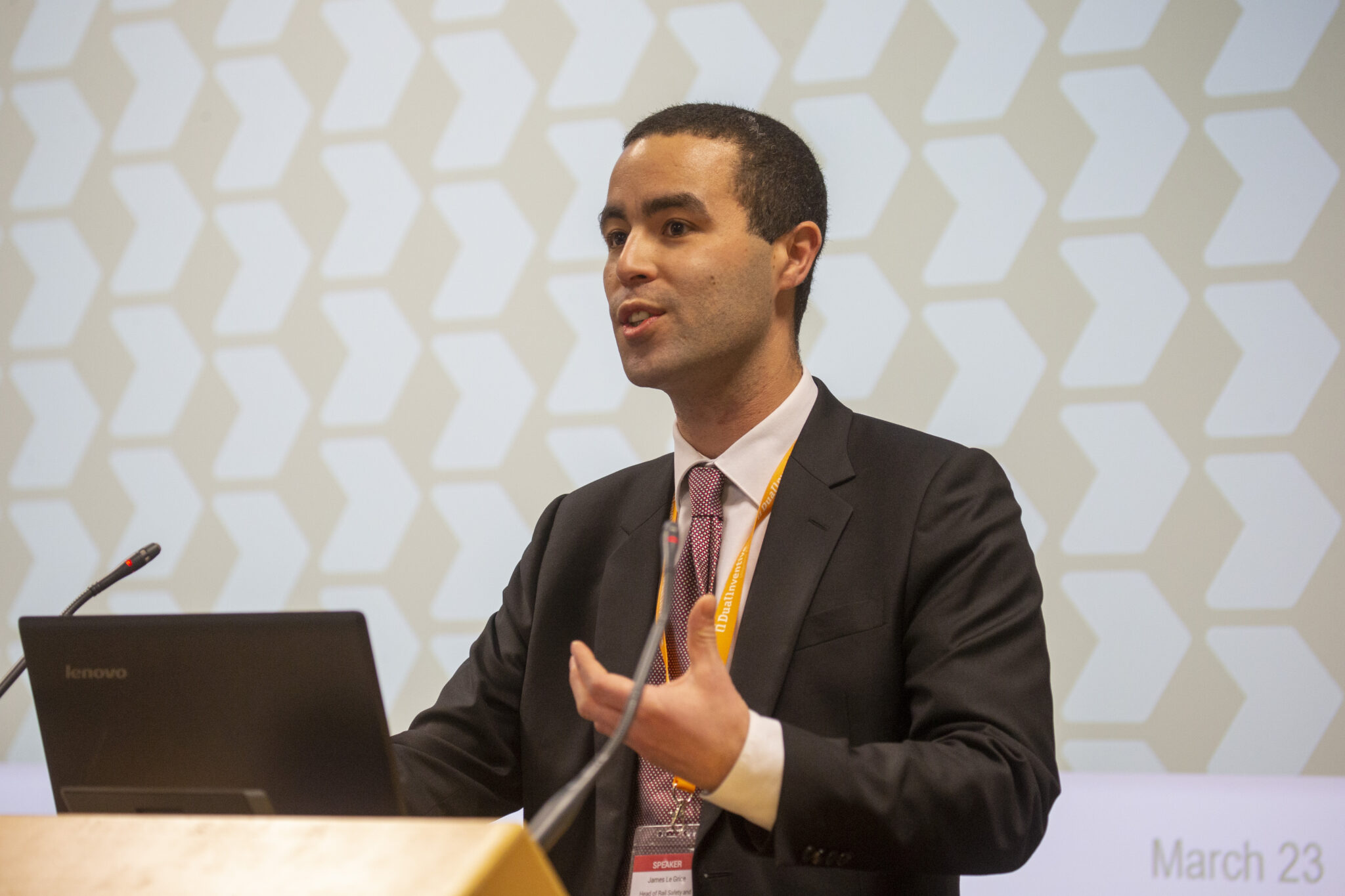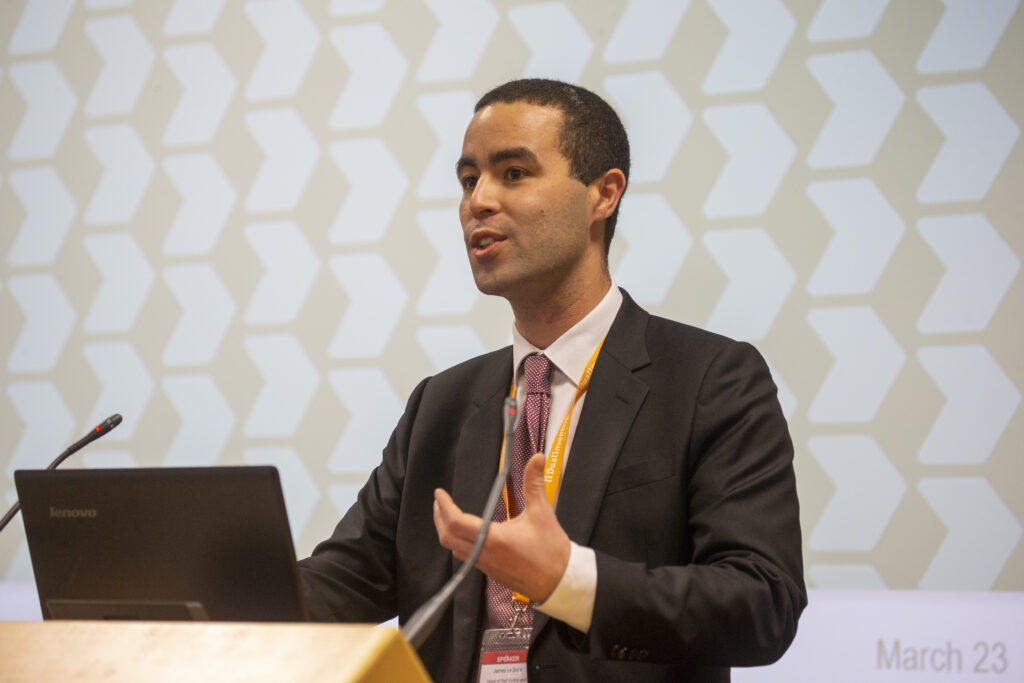 Geofencing for trackworker safety
Leo Scott Smith, CEO of Tended, made the final presentation of the day, but its contents provided a great challenge to planning and protecting track workers. Leo is the chief executive of start-up company Tended. Its equipment is being trialled and has attracted the interest of the Network Rail Safety Taskforce. When working adjacent to an open line, workers need to each wear a small device which will reliably provide an individual warning if the individual crosses an electronic geo-fence boundary.
In trials, geofencing has demonstrated an accuracy of just one and a half centimetres with warnings triggered in a mere half second. Occasions where track workers lose situational awareness, wrongly identify access points, leave equipment on site, or instances of incorrect placing of possession protection, are all potential future uses of this technology.
A resounding success
This year's Rail Safety Summit was a true return to form and delegates left the venue with real food for thought. The day's presentations covered many aspects of rail safety, looking in-depth at long-recognised problems and introducing novel ideas. I was particularly impressed by the high level of discussion and the discussion and debate generated by each presentation. My personal thanks go to all the team at Rail Media for the excellent arrangements and to all those who attended the Summit and asked searching questions. Special thanks also to my fellow Rail Media writer Clive Kessel for his chairing and hosting of the afternoon session.
The Rail Safety Summit has proven time and time again that it is a must-attend event for up-to-date rail safety information.