Stephen Chaytow of the Manchester and East Midlands Rail Action Partnership (MEMRAP) discusses the group's campaign to restore and upgrade 'the peaks and dales railway'.
The former 'Peak Line' was closed in 1968 by Barbara Castle, having delivered East Midlands to North-West connectivity for 101 years. Though not a Beeching closure recommendation, that infamous report set the scene for rails' rapid decline in the 1960s. With motorways and cars in their ascendency, the sun seemed to be setting on rail as a 19th century technology. Yet, after closure, nothing replaced the Peak Line's direct connectivity. As a result, today's road and rail journeys are far slower than the best non-stop time of 75 minutes by train between Derby and Manchester available 60 years ago.
Post closure, 13 miles of track was lifted and ownership gradually changed, with eight miles transferred to the Peak Park Joint Planning Board for £1 in the early 1980s. With an undertaking that the alignment would be protected for rail's return, the curtain was raised on Monsal Trail aspirations. However, even the last feasibility study (Scott Wilson, 2004) did not prioritise trail reprovisioning as, with its tunnels still closed, a strenuous climb over and around 'gaps' along the route limited usage.
Monsal Trail success
The re-opening of those tunnels in 2011, funded by the Department for Transport (DfT), was therefore a significant milestone, and visitor numbers increased along this newly-level trail despite poor visitor accessibility to all but road users. As the Monsal Trail became a successful multi-user affair, especially in peak tourist season, official commitment to rail reinstatement faded, despite that 30-year-old undertaking. Indeed, claimed pre-Covid levels of 300,000 annual users have risen further through the pandemic's staycation effect.
Re-provisioning the trail is therefore an important aspect of this reinstatement, an opportunity to create a unique, integrated and more sustainable 'rail plus trail' experience. Fortunately, the campaign believes it can now deliver a suitable replacement trail to complement the rebranded 'Peaks and Dales Line'.
Socio-economic case
The decades after closure saw various re-opening attempts, culminating in Derbyshire County Council's support for the Scott Wilson study. However, restricted scoping and overly cautious projections led to Derbyshire and the East Midlands losing out, as success of the seemingly-less-likely Borders Rail project showed. Study assumptions and projections were flawed, and the report ignored any effects from not bringing back the line.
Campaign research revealed a silent, continuing economic slide as anticipation evaporated, evidenced by Office of National Statistics data from 2002 onwards. Relative economic decline in central Derbyshire is highlighted by two district councils now sitting close to the bottom of Gross Value Added tables − the ONS productivity measure for comparing all 382 UK districts. Central Derbyshire's unimproved fixed-link infrastructure is a significant contributor and, with residents dependent on cars, the area's appeal diminished for access and inward investment.
Angst about the trail has concealed a pressing socio-economic case, rated 'strong' by the DfT in 2020. For example, the Peaks and Dales' catchment between Leicester, Derby, and Manchester supports seven million people − nine million when benefits for Sheffield and Hope Valley are realised through reopening. Network Rail rated this the leading freight prospect in round three of Restoring Your Railway. Chief among freight beneficiaries would be three quarry operators in the Peak Forest and Buxton area, moving 12 million tonnes of aggregates by rail annually, with scope for further modal shift off inadequate and busy Derbyshire roads. Reinstatement also brings the opportunity to realise Peak Rail's 40-year vision, with heritage services connecting Matlock and Buxton.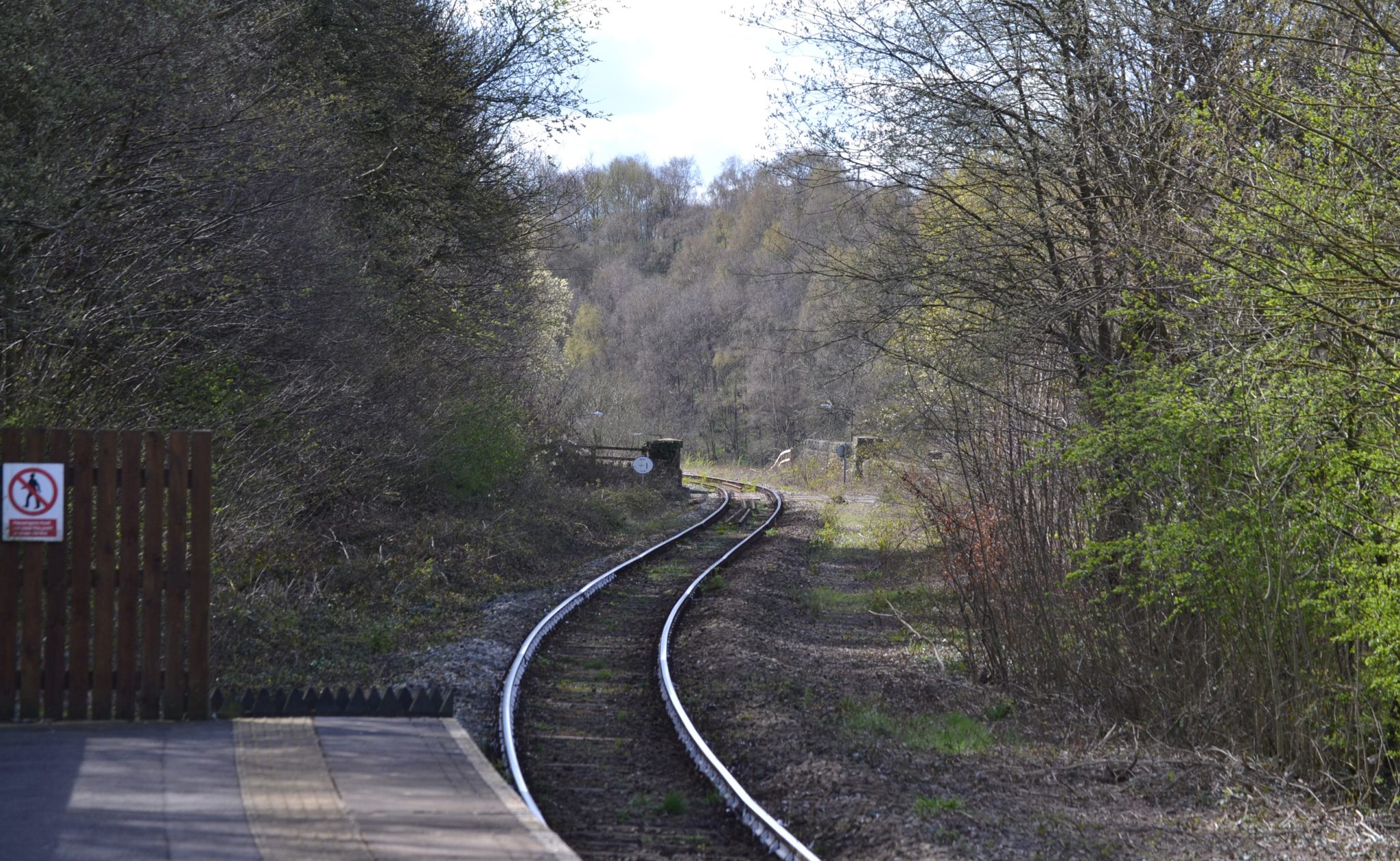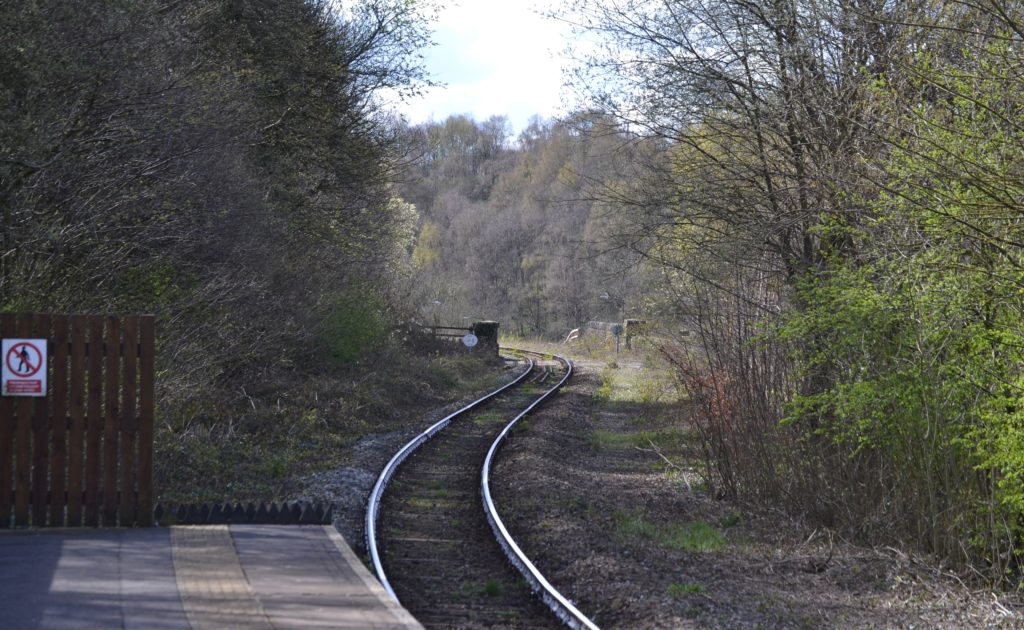 Respectful reinstatement
Of course, the greatest post-Covid opportunity for this reinstatement is from an expanding domestic leisure sector. Ninety percent of pre-Covid National Park visitor volumes (13.25 million annually) arrived by car, which the chair of the Peak District National Park Authority (PDNPA) has called "unsustainable". However, with the PDNPA's website stating that 20 million live within one hour's drive, further growth could be accommodated by rail's return, without additional road congestion. MEMRAP's recent carbon study, partnered with University of Nottingham, highlighted rail's sustainability, suggesting that with modal shift of 48%, road-based visitor traffic to the Peak District National Park (PDNP) could be halved.
In this context, in June 2020 a now unsupportive Derbyshire County Council (DCC) and PDNPA wrote to the campaign's promoter, Peaks and Dales Railway Ltd, seeking consideration of both economic and environmental implications. This request helped to shape campaigning plans, striving to be respectful of reinstatement requirements for this former alignment, through a National Park.
The proposed reinstatement aligns well with the popular Restoring Your Railway aim of reconnecting communities left isolated by Beeching. There is potential for transforming the area's appeal through enhanced connectivity for Central Derbyshire and its 150,000 population (38,000 in the National Park itself).  Matlock and Bakewell would be within commuting reach of Manchester to access jobs, education, and leisure. In the other direction, Buxton residents could again access Derby and Nottingham.
Underpinned by further analysis of that 2004 study, with its flawed projections and economic case, the campaign has built on the socio-economic benefits of reinstatement, already rated "strong" by the Restoring Your Railway assessment panel chaired by Minister of State for Transport, Chris Heaton-Harris. In a subsequent detailed communication with DCC and PDNPA, the economic case was fully set out and the campaign now believes that its evidence shows such a compelling socio-economic case as to leave reinstatement sceptics with no remaining rational basis for complaint, in relation to socio-economic considerations.
Monsal Trail re-provisioning
The campaign then refocused to develop its environmentally-led perspective, appropriate for rail reinstatement through a National Park, helped by three important collaborations, one with the Buxton Town Team (BTT) and two with the University of Nottingham.
The campaign's BTT associates surveyed an equivalent and possibly more appealing replacement route for the Monsal Trail. One of the disadvantages of the current route is that it starts and finishes in the middle of nowhere, connecting little of note in between.
The reprovisioned route brings desired enhancement, intersecting all proposed stations and connecting settlements en route. One example benefits schoolchildren in Ashford, who gain a traffic-free cycle route to school in Bakewell. Discussions about these proposals have commenced with the PDNPA.
Biodiversity net gain
To help reverse a long-term trend of biodiversity loss, parliament aims to legislate for future development to progress together with related biodiversity net gain. To evaluate this for the Peaks and Dales Line, the campaign collaborated with the University of Nottingham. This Masters-level project firstly assessed the status of Sites of Special Scientific Interest (SSSIs) along the route, and then explored ways of improving these by creating a Nature Recovery Network, augmenting further the integrated 'rail plus trail' approach.
This project − which helped earn the post-graduate a distinction for her Masters − showed that the reinstatement could both create a 'protected reserve' along the rail corridor, and be significantly extended through reprovisioning the Monsal Trail, thus upgrading Wye Valley biodiversity, in alignment with the PDNPA's own biodiversity action plan.
Emissions reduction
Government statute obliges the UK to attain net zero emissions by 2050, so the campaign scoped a further collaborative project with the University of Nottingham. Working at PhD level, the project considered the modal shift and carbon reduction implications for the National Park and created a model to assess the extent to which net zero might be reached for the PDNP through reinstatement.
To reflect reality on the ground, the PDNPA area was increased to include the Peak Forest quarries and the market town of Buxton. Results have been most promising. The model shows that, with an achievable modal shift covering visitor traffic and freight, the government's net zero target can be achieved within the required timescales. The associated congestion reduction across PDNP roads would be an additional and, for residents in particular, welcome bonus.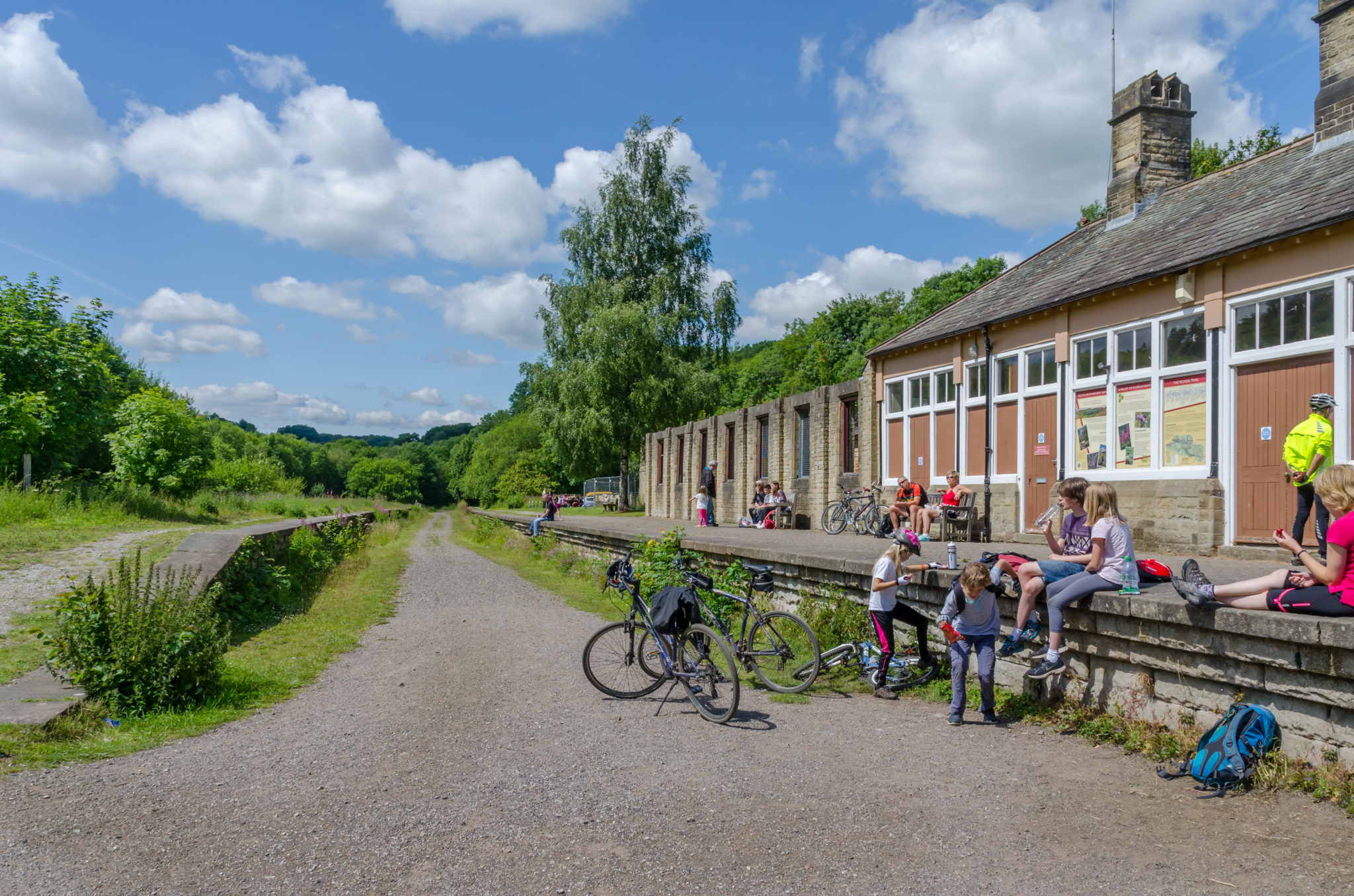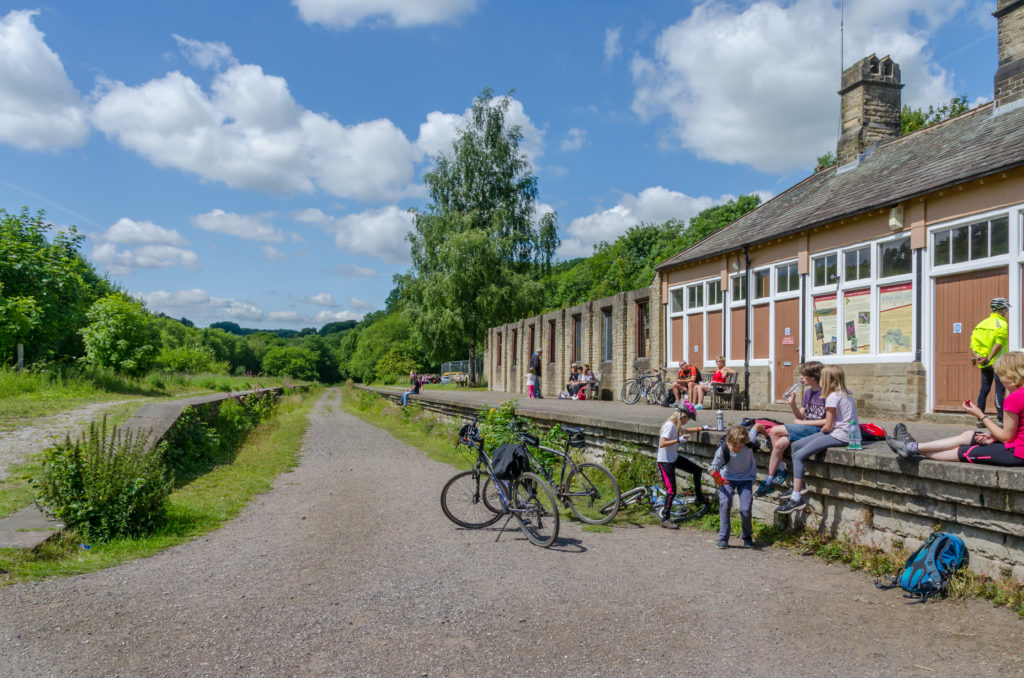 Restoring Your Railway – round three
The campaign's innovative bid to the DfT in March 2021 proposed combining reinstatement of the Peaks and Dales Line with the operation of the Hope Valley Line to create, in effect, an integrated, four-track, east-west crossing of the South Pennines, mirroring original Northern Powerhouse Rail proposals for the North Pennines. This would allow segregation of current, often conflicted, mixed traffic flows, with southbound aggregates traffic rerouted via the Peaks and Dales Line, freeing up the Dore South curve and Hope Valley Line.
In addition to improving sustainable access to the PDNP, the proposal would enable new, direct, fast services from Leicester and Derby, flighted behind upgraded fast Sheffield services via the Hope Valley, towards Manchester.
However, the Peaks and Dales Line was not among the winners of £50,000 funding from the DfT/RYR Ideas Fund. While disappointing, the process was highly competitive and 75 other bids were also not successful. Despite this, the acceleration of both proposal and case development has been hugely beneficial and the campaign continues to go from strength to strength, supported by nearly 20,000 signatories to the associated petition to reopen the line, and an encouraging clutch of MPs, councillors, local authorities, and key stakeholders.
Next Steps
The campaign team continues to engage with key stakeholders, aiming to secure the funding to develop the Strategic Outline Business Case (SOBC) as the next step. To be included by Network Rail in its pipeline of development projects, the Peaks and Dale Line SOBC must be acceptable to the DfT, Network Rail, and Great British Railways as it mobilises. These will be the first steps towards returning this significant and strategic rail link, connecting the East Midlands and North-West.